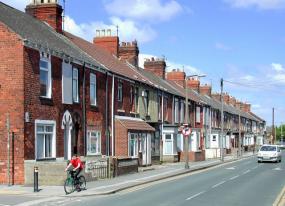 Due to a lack of housing stock, Kingston Council is increasingly turning to private landlords to house those in need and on housing benefits.
Currently with a waiting list of over 6,000 people, and only around 100 new affordable homes being built this year, the council has no alternative.
Councillor Gaj Wallooppillai, Lead Opposition Member for Better Homes, feels there is no immediate sign of the situation improving.
He said: "There still aren't enough houses being built.
"You are looking at something like a hundred affordable homes being built here, which is ridiculous if you are looking to address the issue in Kingston.
"There are substantial short falls and this issue of paying private landlords will continue until more innovative ways are looked at [in terms of] housing people in the borough."
With the shortfall of housing so high, the council is paying nearly £500,000 to just the top five private landlords.
It paid a whopping £442,105 to the five private landlords through housing benefit, when housing association or not-for-profit organisations are considered cheaper.
According to a freedom of information request, one private landlord, whose name has been redacted by the council, receives £105,199 in one year, with next four all above £70,000.
As well as more housing stock, Cllr Wallooppillai also stated that Kingston Council needs to do more when working with other organisations.
"Due to a lack of commercial expertise in Kingston Council they haven't been able to reap the most out of working alongside not only housing association, but also the private sector, in finding solutions," he said.
The four named companies are all paid a significant amount by the council. Coombe Hill Investments receive £88,349, while Earlsfield Properties gain £86,858, Foxtons Limited rake in £84,118 and George Elton Estates pockets £77,581.
Richard Grosvenor, Secretary of Kingston Federation of Residents, expressed that while this is a problem, there is a severe lack of land on which to build.
He said: "The Federation is deeply and increasingly concerned about the acute lack of affordable housing and social housing in Kingston, which is why the Council has to rely more and more on private landlords to accommodate applicants on its housing waiting list.
"The Council has a turnover of council home tenancies of barely 350 a year, and yet its 6,500-applicant waiting list is growing at a much faster rate, which means the majority of people on the list may never get a council home.
"We are told that the Council's build programme for the coming year is around 100 new homes, which will use up nearly all the available sites in the borough, so where does the Council go from there?"
The Department of Work and Pensions (DWP) estimates that it costs a council £23 more a week, or 29 per cent in housing benefit, for a council to house somebody with a private landlord than with housing association or not-for-profit landlord.
Despite the increase, the DWP said that both options were needed to ensure that all families are protected, despite the situation regarding the number of houses.
It said: "Housing benefit provides a meaningful safety net for people, whether they live in social housing or in private rental properties, and it's sensible that both of these options are available to people."
The FOI requests were conducted by the Mirror and GMB. A breakdown of national numbers, viewed by area, can be been seen on the Mirror's website.
Image courtesy of Paul Glazzard