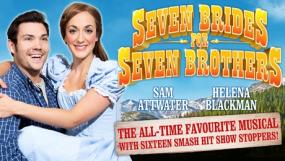 Any musical buff who thinks back to 2006's Andrew Lloyd Webber-driven How Do You Solve A Problem Like Maria? will remember Helena Blackman. Being runner up on a big Saturday night TV talent show is a great way to start a career, and Ms Blackman has certainly used it to her advantage.
After recording an album and performing relentlessly for the past few years, she's now coming to the Richmond Theatre with a re-staged version of Seven Brides for Seven Brothers, an "all-singing, all-dancing and larger than life" musical.
Set in Oregon in the 1850s, Seven Brides follows Milly (Blackman) who meets and agrees to marry Adam Pontipee (Sam Attwater, of EastEnders and Dancing on Ice fame) after only a few hours, but soon finds out he lives in a small cabin with his six brothers. It gets even worse when Adam helps them kidnap wives of their own.
It's already clear that there's a huge cast, and Ms Blackman keenly expresses that the camaraderie is her favourite part of the show. "There's pretty much always someone on stage with you. In a lot of shows it can be quite isolated – you come on as the leading role, you do your scene, go off and the ensemble come on.
"That doesn't happen here – there's a lot of people on stage at once so there's so much to look at. It also means that as a cast you get closer and share a group dynamic."
The period-specific but dazzling musical theatre sound can best be compared to the better-known Oklahoma, and Ms Blackman speaks very fondly of it.
"The songs are very fun and very fast-paced. They're very straight to the point of the action and they're always used to tie up things or move on into the next thing. There's no song that's there for no reason in our version, which is always nice because you want to be with the drama of the show."
However, Ms Blackman doesn't always get to join in with the fun: "There's so much dancing by other people and I'm just sort of in the midst of it. Most of the songs I'm in are a bit more serious or very song and drama led."
In this way, she acts as the central anchor of Seven Brides, often keeping the brothers under control, and she has risen to the challenge after a huge range of other work, including Nellie in South Pacific and Snow White in panto.
Seeing the show from a musical theatre singer's perspective is interesting. Having been on the road with this show on and off since October, Ms Blackman is, understandably, getting tired and plans to take a break after the tour finishes in May.
"It's been extremely busy so it's time to give myself a bit of a break and get back on top of things – think about what I want to do and what the next step is, which you don't have time to do when you're working.
"It's been a very busy few years – it's been job after job after job and I've been away a lot so I'm not taking any work unless it's right. I need a really good break."
Working non-stop also requires Ms Blackman to look after her voice as it is faced with more demands than the body naturally expects, but she aims to follow a simple low-fat, low-sugar diet to avoid being bloated or exhausted on stage.
During her almost workaholic sounding years, Ms Blackman recorded an album of both famous and obscure Rodgers and Hammerstein songs in 2011.
Comparing the process of recording an album and performing on stage, she says: "An album's very different because you have time to work on it, go back over it and polish or change things. At the same time, although that's nice, you can strive to perfection so much that you end up with a product that doesn't sound unique because it's so produced.
"That's where I was lucky as I had a good music supervisor who said 'right, we need to step away from this track now'."
However, she's not ready to rush into another just yet. "It's a real responsibility because the work that you put out there is forever there. You need to be proud of it so you need to be in the best place vocally, you need to really donate time to it and it means probably taking a little bit of time out of my theatre work to achieve it.
"Right now I'm not prepared to do that but I'd like to think that one day there will be another one."
In fact, Ms Blackman seems to relish being in front of an audience above all, wherever that might be, and finds communicating the writer's words is the most important part of her job.
"Every night's a different audience regardless of whether you're in Edinburgh or Bromley or the West End. The thing about the West End is you're getting people from all over the country anyway. You're always aware that you're catering for different parts of society.
"You don't really think about who's in front of you – you just know that somebody is."
When asked what she's most proud of, Ms Blackman can barely narrow it down as she has packed so much into her eight-year career.
She says: "[Eliza in] My Fair Lady was a role I'd always wanted to play and I finally got to play it, but it's usually not the shows it's the people, from the directors to the choreographers and the musicians – I've worked with some of the best in the world and that's an incredible achievement."
Rushing around London to various meetings on a non-show day, Ms Blackman departs abruptly with a humbling thought.
"I'm always grateful that somebody likes what I do because if someone likes what I do then I continue working. It's fantastic."
Seven Brides for Seven Brothers is at Richmond Theatre from April 28 to May 3.
Latest posts by courier reporter
(see all)