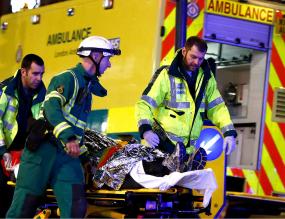 Ambulance response times in Kingston are at their fastest for seven months.
Figures from the NHS London Ambulance Service show that 81 per cent of ambulance responses to Category A (immediately life-threatening) calls in Kingston in January were within the target eight minutes.
This is a rise from 73 per cent in December 2013, and 69 per cent in both November and October 2013.
Margaret Thompson, Kingston's lead councillor for Children's Health and Wellbeing, said: "This is very positive news. We have an excellent ambulance crew and we don't get any complaints about them."
Howard Jones, leader of the opposition of Kingston Council, said: "I'm so happy about this.
"All the people concerned should be congratulated for their great service to the community. This is what residents want to hear."
He also praised the changes in the way that ambulance responses are dealt with, saying "they have saved lives".
He added: "We should all admire the work ambulance workers put in and make sure the community always values that."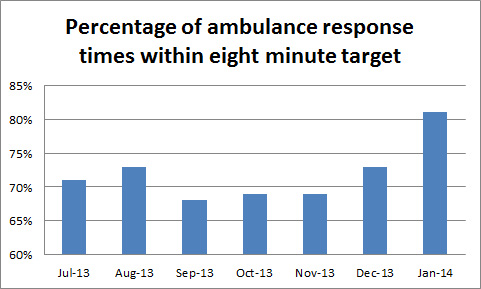 In 2012/13, an average of 74.25 per cent of Category A calls received an ambulance response within eight minutes.
This has occurred in spite of the London Ambulance Service having to make £12.5m of savings over the course of that period, and £15m worth in 2011/12.
Margaret Thompson said: "Everywhere in the health service is having to make savings, and they don't necessarily just cut services, but do things better, which seems to be what they are doing."
Howard Jones concurred, saying: "People talk about savings as it they are always negative. If there are efficiencies that can be made in a service without causing difficulties in it, they should be.
"We should try to get the best deal we can for a service, but it shouldn't all be price-orientated."
However, he also criticised the Liberal Democrats, saying: "Ed Davey created a non-story about closures of the A&E and maternity department in Kingston Hospital which was just scaremongering. But the hospital didn't lose these things.
"In fact, the Health Minister visited Kingston Hospital and announced more money for maternity services."
Image courtesy of REX/Yin Gang