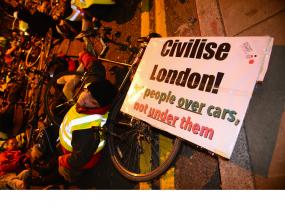 It was just after midday when Richard Muriza, a father of two in his 60s who dedicated his life to helping others, was cycling home from the CoolTan Arts charity in Brixton, where he volunteered.
When he came to a busy junction on Camberwell Road in South London, he found himself riding alongside a huge tipper truck that towered above him. As the truck turned left, oblivious to the cyclist's position, Mr Muriza was dragged under its monstrous wheels, leaving his mangled bike smashed on the side of the road.
As horrified onlookers watched the scene unfold, they waited powerlessly for help to arrive. But when the paramedics got there, they saw that Mr Muriza was trapped, crushed under the back wheels, and there was little they could do.
One witness of the harrowing accident, who preferred not to be named, told the Daily Mail: "I came past and saw people panicking around the side of the lorry. He (Mr Muriza) was trapped under the wheels at the back of the truck. People were screaming, but there was nothing they could do."
On November 18 last year, Mr Muriza became the sixth cyclist to be killed on London roads in just 13 days and the fifth to be crushed by either a lorry, bus or coach. Over 100 cyclists in England were killed in 2013 alone, and in reaction, cycle safety activists have been campaigning tirelessly for improvements to safety standards on London roads.
On November 19, around one thousand cyclists camped outside Transport for London (TfL) headquarters in protest of the alarming spate of cyclist deaths. Pressure began to mount on Boris Johnson, TfL and the city boroughs to act.
In a new scheme to make London more cycle-friendly, the Mayor of London, Boris Johnson, recently announced a £100m investment in three London boroughs to create 'mini Hollands'. The idea involves creating better facilities and conditions for cyclists in Enfield Town, Waltham Forest and Kingston Upon Thames.
At a People's Question Time in Kingston last week, the Mayor said: "Of course one cycle death is too many. We've got huge sums of money going into cycling, not just here in Kingston, but about £913m across London.
"It doesn't mean there is any excuse for complacency, we are going to go on investing in our roads to make cycling safer."
This is not the first step that the Mayor has taken to improve cycling safety on London's roads. In response to the spate of deaths in November, the Metropolitan Police launched Operation Safeway, aiming to improve road users' safety by deploying police officers at 166 busy junctions around London.
Stop Killing Cyclists (SKC) is working to build a peaceful but more radical approach to road safety and believes Operation Safeway was a distraction.
This week, Will Nickell, a campaigner for SKC, said that Safeway targeted cyclists and contrary to helping them, put them under further pressure.
"Operation Safeway saw officers posted at junctions targeting cyclists, as they were considered easier to deal with.
"Cycling on pavements has been illegal since the 90s, but there has always been discretion for those who are cycling considerately, out of a fear of the condition of the roads.
"During Operation Safeway, officers were instructed to disregard that discretion and fine all pavement cyclists regardless.
"This had the effect of forcing cyclists to ride on dangerous stretches of road, acting in complete contradiction to what Operation Safeway was allegedly established to do – prevent further deaths and injuries."
Superintendent Robert Revill, who led the operation, stated that Safeway was put in place to reduce the appalling number of deaths on London roads each year.
According to Revill, the idea behind Operation Safeway was education – "enforcing road traffic law and raising awareness of safety guidance".
In reality, what this meant was the issuing of Fixed Penalty Notices (FPNs) for cyclists and motorists who were perceived to be acting dangerously on or about the roads.
More than 13,800 FPNs were issued during the operation, which was in action between November and January 2014. Over 4,000 of these FPNs were given to cyclists for jumping red lights, cycling on footpaths and having incorrect lights.
Operation Safeway did not only focus on key junctions in the city centre; Kingston Upon Thames, which has just won £30m to improve its cycling facilities, has also been working to "educate road users".
Police in Kingston gave out 54 FPNs to cyclists using pavements during the operation. This week Chief Inspector Gary Taylor of the Metropolitan Police, reiterated that Safeway was about education.
"If someone is cycling up the pavement nearly knocking everyone over, that in my mind is anti-social and people get the hump with that.
"The point of Safeway was education for everyone. If you notice now, a lot of HGVs have stickers on the back saying: 'If you're on my left and I turn left, then I can't see you'."
But do these stickers really class as education or a solution to the problem? If one of these stickers had been on the back of the tipper truck that crushed Richard Muriza, would he still be alive today?
Will Nickell says that Operation Safeway was a knee-jerk reaction to a serious problem that needs serious attention.
"There are fundamental issues with our road infrastructure, which lead to unnecessary conflict between road users who have different needs.
"The November deaths should have served as a profound wake-up call for our local authorities to act in a meaningful and sustainable fashion to protect their citizens, to provide widescale, safe, segregated infrastructure. Sadly this hasn't happened."
On April 2, Stop Killing Cyclists held the event 'London Boroughs' Wall Of Death', highlighting the amount of money London Boroughs have invested in cycling and pedestrian safety over the last four years.
Through Freedom Of Information requests, Will Nickell has discovered that 24 of the 32 London boroughs have not invested a penny on segregated cycle lanes since the last London elections.
However at the People's Question Time last week, the Mayor emphasised the vast amounts of money being injected into cycle schemes across London.
This does certainly seem to be good news for the three boroughs that have won these large sums of money. But it is interesting to note that Kingston is already statistically the safest borough in London. Cycle deaths or injuries are not a regular occurrence by any means and in fact there are many separate cycle paths already in place in the area. As the Mayor stated in Kingston last week: "This is the safest place to live, virtually in the whole of Europe."
But what about cyclists who travel in other parts of London? Many are still afraid to use their bicycles as a means of transport because of notoriously dangerous junctions. There have been vehement calls for a redesign of the Bow roundabout, in East London, described as the 'death trap' by locals, after three fatalities and eight serious injuries in recent years.
At last week's People's Question Time in Kingston, Darren Johnson, member of the Green Party and London Assembly, emphasised the importance of infrastructural improvements across London.
"What I am concerned about is what is happening to other London boroughs. We need a full programme, not just little pots of money that the Mayor is talking about.
"I accept that you can't do everything at once, but we do need a full programme for future years to ensure that it's not just Kingston which is fantastic, but every outer London borough, to make genuinely attractive and safe cycling."
According to Andrew Gilligan, the cycling commissioner for London, there is nothing closer to the Mayor's heart than improving cycle safety. But he says that changes cannot and will not happen overnight.
Image courtesy of REX