A demonstration organised by the Richmond and Kingston branch of the Palestine Solidarity Campaign (RKPSC) took place at midday on November 9 outside Kingston University.
Spokesperson Ayesha Shah spoke to a crowd of roughly 40 students to support a call for a permanent ceasefire in Gaza.
"[Israel's actions] are illegal under international law… we should be shouting that, crying out for that… and calling for a [permanent] ceasefire."
She added that the reluctance of local councillors to support a permanent ceasefire made them "complicit" in the ongoing violence in the region.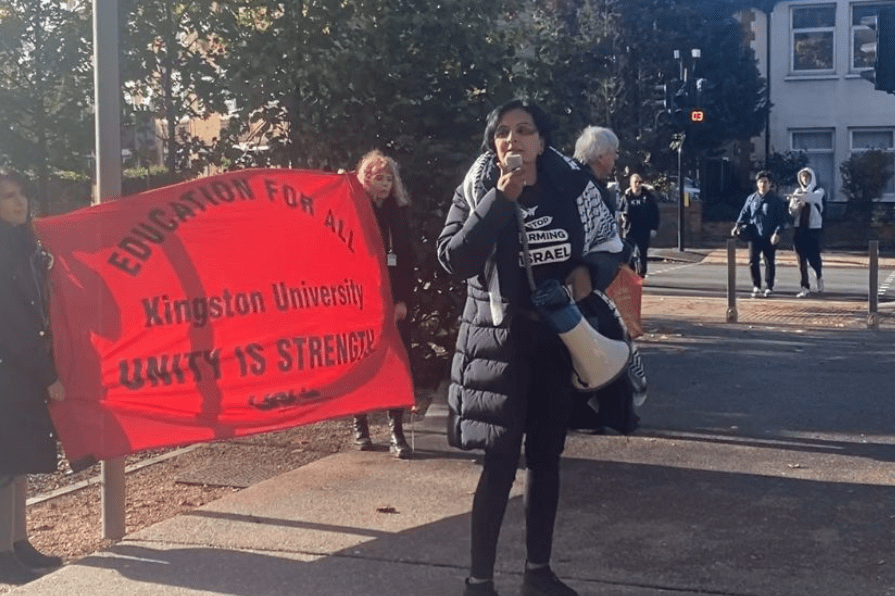 So far, according to the Hamas-run Health Ministry, over 10,000 people have been killed in the fighting in Gaza.
Shah labelled the attacks on Israel by Hamas on October 7, in which over 1,400 people were killed and more than 200 hostages taken, as "terrible", but did not explicitly condemn the assault by Hamas.
When pressed on this issue, Shah said people should instead be asking: "Why does Hamas exist?
"The Palestinians have no freedom…they have no justice…there are six million refugees living in camps, some of them since 1948… Hamas is the product."
This sentiment was echoed by others in the rally.
One woman said that restrictions introduced by Israel on the people of Gaza made Hamas "inevitable", adding that if Israel were successful in wiping out Hamas, "there will be another Hamas".
Nobody from the RKPSC laid any blame for the loss of civilian life in Gaza at the feet of Hamas, who are designated as a terrorist organisation by the UK government and have been accused by many organisations, including NATO, of using the civilian population of Gaza as human shields.
One onlooker, who wished not to be named, lamented the RKPSC's refusal to condemn Hamas: "Hamas alone is responsible for bringing death to Gaza. They committed war crimes against Israel on the 7th [of October], and by using human shields, [they] are committing war crimes against the very people they claim to represent."
They accused the RKPSC of "double standards", apportioning all the blame to Israel and demurring when asked about Hamas' responsibility.
They added that "condemning violence on all sides" would be more conducive to creating the conditions for the RKPSC's stated goal of a permanent ceasefire.
Chants of "From the river to the sea, Palestine will be free" could be heard echoing around the crowd.
The slogan has been described by Home Secretary Suella Braverman as an "expression of a violent desire to see Israel erased from the world" but this interpretation was roundly rejected by people at the rally.
One demonstrator said the chant meant "justice and equality for all people living within [Palestine and Israel], from Jordan to the [Mediterranean] sea". Israel and most Jewish groups disagree.
Another demonstrator said: "We're not saying get rid of Israel, we're saying equal rights for Palestinians and Israelis…a democratic country where everybody, whoever they are, has equal rights."
But when it was suggested that this might be achieved by condemning Hamas as well as Israel, another member of the RKPSC said that Israel needed to "end the occupation" first.
She added: "You cannot have an occupier sitting down having a reasonable discussion with the occupied… that doesn't make any sense."
When asked to sum up the aims of the RKPSC, Shah responded: "We're not going to stop fighting for justice… by talking to our higher up, our government, our lecturers, our management at universities…that's what we want. It's [about] justice for the Palestinians."