The number of children in Kingston without an allocated secondary school place on National Offer Day, March 1, has increased substantially this year.
Over eight per cent of children from Kingston were not allocated a school at all on March 1 compared to four per cent last year.
Whilst Kingston's unplaced children went up from 82 to 158, Richmond's went down from 135 to 114.
Norbiton Councillor Oliver Wehring said: "It's massively stressful for parents of course because they go through the rigmarole of putting down their preferred places for their children.
"Then National Offer Day happens and either they don't get the first one they prefer or they don't get any at all and then the panic sets in."
Parents have to apply by the end of October for a place for the following September. This involves a long wait until March 1.
All councils have a statutory duty to find a school place for every child by September. Some children go to independent schools or are homeschooled but the majority apply for schools run by the Local Education Authority (LEA).
The bar chart shows the number of applications per year and the line graph shows the number of children that were not given a school place for those years.
As the number of applications went up most years between 2016 and 2021 in both Kingston and Richmond boroughs, unsurprisingly, the number of children not receiving a place also rose.
Wehring pointed out that a lot of Kingston's secondary schools are near the boundaries of neighbouring borough councils like Richmond, Merton, Sutton and Surrey County Council.
This means that the children from those boroughs apply for all the Kingston schools too.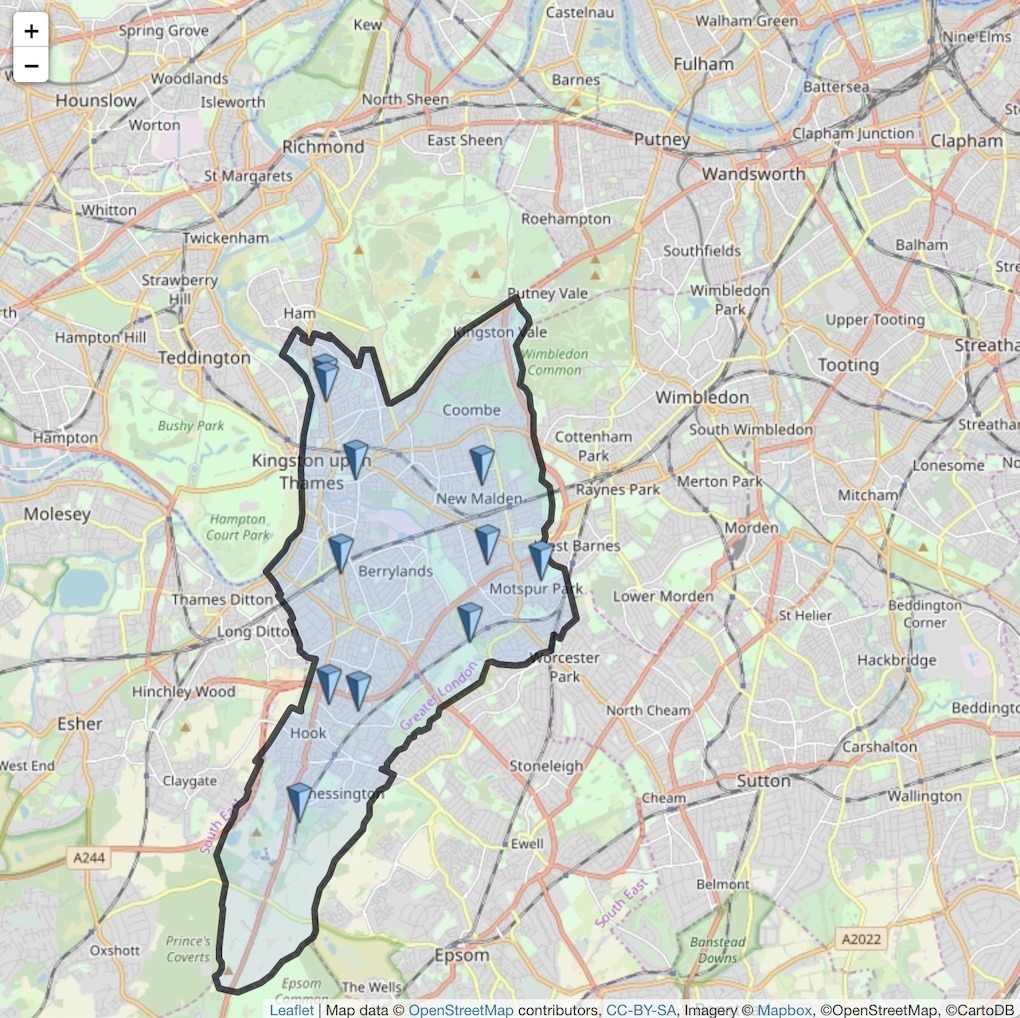 The Greenwich Judgement of 1990 said that LEAs cannot give priority to their own residents when it comes to school admissions. The judgment declared that all applicants must be treated equally, no matter which borough they live in.
As the council and schools cannot ring-fence school places, the commonly used criteria for admission to comprehensive school places is the distance from home. Faith schools and grammar schools use other criteria as well as proximity.
Last year, other than Barking and Dagenham and Lewisham, Richmond and Kingston had the most unplaced children in London on National Offer Day.
There is usually a lot of movement between March and September when schools start as parents accept and reject offers. If a child does not receive their top preferred school (they can apply for up to six) or any school on the list, they are automatically placed on a waiting list.
Sonia Malik, a mother of two from Old Malden in Worcester Park, applied for a place for her daughter for a September 2020 start. Her daughter was not offered any school at all.
Malik said: "It was hard. There were a few other girls in similar situations. If she'd been the only one that would have been really hard on her.
"The previous year we had a few cases amongst friends who didn't get places. But they reassured us that by the end of summer at least everyone would have one of their preferred schools."
But this never happened for the Malik family. Last summer, Malik's daughter was offered a place at a school in Merton which meant taking two buses or a train and a bus.
In September, three days after attending her new school in Merton, Malik's daughter was offered a school in Kingston. Although it was not on her preferred schools list it felt like a better fit for her.
"It was a really hard decision because we hadn't seen either of the schools [because of the pandemic] but from the research we did, we felt for her that would be a better school, so we ended up taking her out three days later and putting her in a different school," said Malik.
Meeting the demand for school places
Kingston Academy opened in North Kingston in 2015 to meet the demands of the local community. Judged "outstanding" by Ofsted, its unofficial catchment area is now so small that children from nearby Norbiton have little chance of getting in.
The demand for school places is exacerbated by Kingston having some highly selective faith schools such as Richard Challoner and Holy Cross, and grammar schools such as Tiffin.
The Diocese of Southwark has tried to solve the admissions problem by proposing a new faith school in Kingsmeadow. The school was given approval by the Department of Education though a funding scheme for voluntary aided schools, but this only came to light recently.
Humanists UK and other members of the community expressed disappointment that the proposed school will be a faith school. It also likened the consultation method that the Diocese carried out to "marking their own homework".
Another consultation is due next month. Even though the Diocese must still go through a review, it has already set up a website and Facebook page for The Kingston Church of England Secondary School, which aims to open in September 2024.
The regeneration of the Cambridge Road Estate, which plans on expanding the current 865 dwellings to 2170, will undoubtedly add pressure to the demand for school places.
The proposed school aims to alleviate this.
Wehring said: "Only a third of the places will be allocated by faith. This part of Kingston needs a secondary school. It's either this or nothing.
"You can either have this secondary school in September 2024 and it have one third faith places or we haven't got anything in the pipeline and we don't know when."
"Black Holes" in catchment areas
Although most secondary schools do not have official catchment areas, the address of the furthest child that gets a place is used as a catchment guideline for parents for the following year when they apply for places.
The allocation of school places over the last 10 years has highlighted that there are "black holes" in neighbourhoods like Old Malden and Norbiton where families live just outside of the catchment area.
Malik said: "[Old Malden] is a bit of a no-man's-land. We're just not close enough to secondary schools. Unless you live on the doorstep there's no guarantee of getting a place.
"For boys, just because of the schools that are here, they are closer so you've got a better chance. For girl's secondary schools it's a bit more difficult."
However the opposite is true for Norbiton.
Wehring said: "One of the major plus points about the [proposed school] is it's smack in the middle of a black hole for secondary school places, particularly for boys.
"Norbiton has, for a few years now, seen its secondary school pupils go all over the place."
There is no doubt that Richmond and Kingston are two of the most desirable London boroughs to live in. The reputation of schools in both boroughs makes them attractive for families. Add in the green spaces, transport links and facilities, it is understandable why schools are so oversubscribed.
As plans for more housing materialise, the infrastructure has to meet the needs of the community and one viable way of doing this is by building more schools.