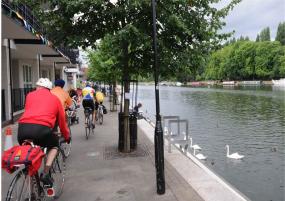 Kingston was one of the London boroughs chosen by Boris Johnson to become more cycle-friendly.
It was one of eight boroughs shortlisted by the Mayor for a share of £100 million to create what he described as "mini-Hollands".
Councillor Simon James, Kingston Council's Lead Member for Strategic Transport, said: "It is very good news for transport generally in Kingston.
"It is good for segregation between cyclists to drivers and pedestrians to cyclists.
"The scale of funding available is far greater than what we could ever have hoped to achieve.
"It's all about the scale of the funding and what we can do with it rather than just the vision itself."
Kingston cycle plans include a cycle-only Broadway between Thameside near John Lewis to Queens Promenade at Town End Parade and cycling 'superhubs' at Kingston and Surbiton railway stations, with parking spaces for 750 bikes initially.
The two other suburbs who also received funding are Enfield Town and Waltham Forest.
One of the main focuses of the cycle plans are to encourage more people to ride a bike to work instead of their usual journey in a car.
This in turn will mean less overcrowding on public transport in and around London and also reduce pollution which will benefit everyone.
Kingston's bid was supported by local MPs, cycling groups, businesses and the council's Conservative group.
Image courtesy of REX features