"I was getting letters through the post and hiding them from my partner – trying to cushion her from it.
"Debt was building up and I found that I owed money on the money I'd borrowed to pay off other money. That's how the desperation came about."
When Chris began receiving final demand letters, he did not know where to turn for help. Like six million other people across the UK, his credit score was too low for him to consolidate his debt through the usual loans advertised by banks.
Chris' desperation drove him to seek help from a respectable-looking advert. The advert was not from a legitimate company and the people who arrived at his house turned out to be loan sharks.
"I phoned the number and met two people who came to the house," Chris said.
"A man and lady appeared – very straight, down the middle, people."
The couple lent Chris £700 and then arranged to meet him once a fortnight for their repayments. This schedule coincides with many people's benefits payments so that loan sharks are able to get their money before their victim has a chance to spend it.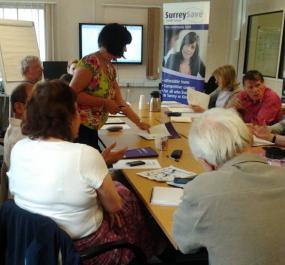 When repaying the loan became difficult, Chris found that the sharks very quickly began pressuring him into paying.
"[On] the first occasion I couldn't pay the full amount, I was told a 'line manager' might have to call," he said. "There was inference that they might have to call my partner and I was made to feel very uncomfortable very quickly."
Once a loan shark has sunk their teeth into their victim, they do not let go. With the high interest accumulated by the illegal lender, the debt Chris owed soon reached £1,100, which he could not afford to repay.
Chris' situation soon spiraled out of control and he was forced to move home in secret to hide from the sharks.
Since then Chris has contacted SurreySave, a credit union that has provided Chris with an affordable and regulated lending source.
The organisation is protected by the Financial Services Compensation Scheme, meaning that if a member decides to save with the scheme, their cash is insured up to a value of £85,000.
The scheme has been a success, and to date the fund has received £70,000 in savings from Kingston residents and has loaned out £47,000 to the benefit of the community.
As well as the financial assistance given to those in debt, SurreySave also provides useful advice on how to deal with loan sharks.
Ted Smith, community liaison officer for SurreySave, said: "Although loan sharks are unlicensed and lend money illegally without a contract, those that borrow from a loan shark are not doing anything illegal.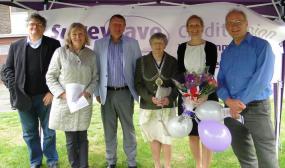 "However, they often think that they are and believe they will get prosecuted. They won't.
"If they assist in getting their loan shark prosecuted, then as the debt is illegal, it does not need to be repaid."
Coming forward sounds easy, but when the victims face threats of violence, the decision becomes much harder.
SurreySave helps people like Chris who are unable to escape the clutches of loan sharks by putting them in touch with the England Illegal Money Lending Team (IMLT), a national prosecution service based in Birmingham.
A spokesman for the IMLT said: "We have had cases in the past that involve violence, blackmail, drug dependency, and in the most extreme case, rape."
The IMLT's prosecution division can secure warrants enabling them to search a suspect's home. The aim then is to find evidence of the suspect living beyond their means, such as large piles of cash or loan books detailing their illegal activities.
This is what happened to Julian Douglas when a successful warrant uncovered 24 illegal loan agreements in his home in Croydon.
These documents showed that Douglas had lent out £32,000 and had an expected a return of nearly £115,000.
Thanks to the work of the Illegal Money Lending Team, Douglas was sentenced to 20 months in prison and the debt his victims were faced with was wiped out.
Although Douglas' activities have been stopped, loan sharks are still a threat to society and often go unnoticed for some time.
Tony Quigley, Head of the England IMLT, said: "Illegal money lending is a despicable crime which causes nothing but harm to our communities.
"These lenders may appear to be offering a community service but borrowers are often forced to pay back far and above what they have borrowed and can afford."
"We would urge anyone who has been the victim of a loan shark to report them in confidence on 0300 555 2222, as we can help."
Images courtesy of SurreySave