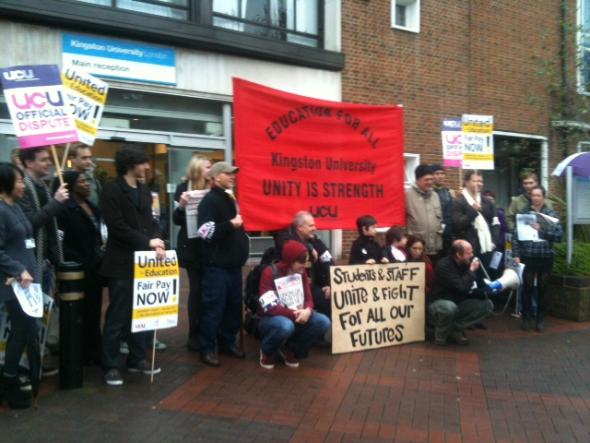 Staff at Kingston University have gone on strike today against their below inflation pay rises.
The strike by all lecturers and administrative workers is monumental, being the first one whereby all three unions are on strike together.
Dave Tinham, a Kingston University UCU officer said: "Unless management come back to the table and reward the work that we do, we will continue to put pressure on them."
Many activists were protesting outside Penrhyn Road from as early as 8am, with the rallying getting underway from 10am this morning. The strike is unlikely to affect most Kingston University students, with it falling on reading week, but the number of protesters was still as high as 40.
Picketing has been focused on the university's main Penrhyn Road campus, with representatives also spread out to its other campuses.
The nationwide protest has been organised by Unison, Unite and the University and College Union (UCU) against their members' 1% pay rise, which in real terms is a 13% salary drop.
Dr Julian Wells, Kingston University's UCU Chairman, said: "It's been great to see the support from fellow lecturers and students, it's crucial that we draw attention to our dissatisfaction and luckily the rain is holding off at the moment."
The rally is set to move onto Conway Hall, London in the afternoon as universities and unions join together as part of the national strike.