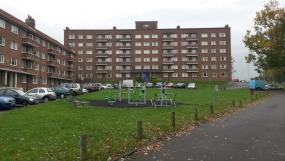 Kingston Police are appealing for assistance in identifying a man connected with a robbery in Kingston last year.
On September 23, 2013, a man was attacked on Hawks Road, Kingston and a bag containing the takings from a Ladbrokes betting shop was taken.
The victim was punched to the floor. He was then taken to hospital and was later discharged with minor injuries.
The suspect is described as a white male, aged in his late 20s and approximately 6ft 1ins tall with a strong build.
DC Iain Law, the investigating officer for the Flying Squad, said: "This was a violent attack, in broad daylight.
"I ask the public if they recognise this person or have any information on him to come forward.
"I would also appeal to any witnesses or anyone with any information about the robbery to also contact us."
After the attack the suspect, wearing a blue jumper and blue jeans, fled the scene on foot towards the Cambridge Estate.
A search of the area by police did not trace the suspect.
Officers have released an image of the man they wish to speak to.
Anyone with information about the man in the CCTV or about the robbery itself are asked to call the Flying Squad on 0208 785 8655 or call Crimestoppers anonymously on 0800 555 111.
Image courtesy of Kingston Courier