The Local Government Boundary Commission for England (LGBCE) has rejected a proposal to increase the number of councillors on Kingston Council.
Kingston Labour proposed two extra members as part of the latest boundary review, which will alter Kingston Council wards ahead of the 2022 local elections.
Ryan Coley, leader of Kingston Labour's local campaign forum said: "The opportunity to transform the relationship between councillors and residents with a radical overhaul of the wards, focusing them on the real communities across our great borough, has been missed."
The opposition party said the addition of two extra members to the current 48 would allow councillors to cope with a workload they say has ballooned as the population of the town has increased over the past 20 years.
The number of people living in Kingston increased from 149,045 in 2001 to 175,470 in 2018, according to the Office for National Statistics.
Despite the LGBCE report estimating a further growth in the Kingston electorate of seven per cent by 2025 it deemed the current 48 councillors an adequate number to represent the area.
The report said: "We looked at all the evidence provided and were not persuaded that an increase in council size was needed.
"We concluded that keeping the number of councillors the same would ensure the Council could carry out its roles and responsibilities effectively."
The changes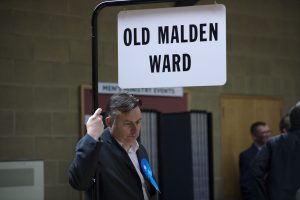 Of the most notable changes, the review will see is the Tolworth and Hook rise ward being scrapped in favour of two new wards called King George's and Sunray, and Tolworth.
Chessington South will be renamed to Chessington South and Malden Rushett, to include the village on its southern boundary.
Canbury will be split, into two wards Canbury Gardens and Kingston Gate.
Meanwhile, St Marks will be renamed, to St Marks and Seething Wells.
Head to the boundary review website for more details.