Lewis Hamilton equalled Michael Schumacher's record of seven World Drivers' Championships by winning the Turkish Grand Prix in treacherous conditions on Sunday.
He did it with a performance that will go down as one of the best of his career, starting sixth on the grid and driving 52 laps on worn intermediate tyres to win by almost 30 seconds.
An emotional Hamilton said on the podium: "We dreamed of this when we were young watching the Grand Prix and this is way, way beyond our dreams."
Racing Point's Sergio Perez came in second with Ferrari's Sebastian Vettel picking up third.
A tricky start
The race started in extreme wet conditions with everyone except the two Williams drivers starting the race on full wet tyres.
Pole-sitter Lance Stroll got off to a great start and led for the majority of the race, at one point leading his teammate by over 10 seconds.
In contrast, Hamilton's only remaining title rival Valtteri Bottas had a horrible start making contact with Renault driver Esteban Ocon and spinning at turn one.
By lap seven, track conditions had improved enough for drivers to make the switch from full wets onto intermediates with everyone following the lead of Ferrari's Charles Leclerc.
Red Bull driver Max Verstappen told his team over the radio, he did not want to pit for inters and stayed out an extra four laps successfully overcutting Vettel to move into third place on lap 12.
On lap 13 Alfa Romeo driver Antonio Giovinazzi retired with a mechanical fault, causing a Virtual Safety Car to be deployed.
Verstappen lost his chance of a win on lap 16 when he tried a move up the inside of Perez into turn 11 but, he lost the rear end and spun, flat-spotting his tyres in the process.
Changeable conditions
On lap 30, the Drag Reduction System (DRS) was enabled, prompting some teams to consider switching to slick tyres. However, considering drivers had struggled for grip in the dry during Friday practice, due to the track having recently been resurfaced, teams opted against it.
Leclerc was the first driver into the pits for his second stop on lap 31. The Monegasque was four seconds a lap quicker on his fresh intermediates and all the drivers except Hamilton and Perez followed his lead.
Hamilton made the call to stay out himself telling his team over the radio: "Don't box me man" and it proved to be a stroke of genius.
On lap 37, race leader Stroll pitted for fresh intermediates, and it cost him dearly. His tyres grained almost immediately giving him no grip, and he dropped back through the field, eventually finishing ninth.
It was a harsh reality for the young Canadian who secured his first F1 pole on Saturday becoming the first Canadian since Jacques Villeneuve to do so.
Stroll's decision to stop left Perez and Hamilton out on track as the only two yet to make their second stops. Hamilton was able to get past Perez on that same lap with a DRS overtake and he did not look back from there.
Bottas was having a horrible race and Hamilton added insult to injury by lapping him on lap 47. The Finn will be left wondering what he has to do to even get close to his teammate next season.
With fears there may be another downpour of rain, Mercedes asked Hamilton if he wanted to make a safety stop, as he had enough of a gap to Perez, to make sure they would not get caught out by the weather.
Hamilton decided to stay out and the rain did not come anyway as he guided his car home for his 94th F1 win.
On the last lap Leclerc, who had been closing the gap to second place Perez, tried a dive into turn 12 but he locked his brakes and went wide gifting his teammate Vettel third place, his first podium since Hockenheim 2019.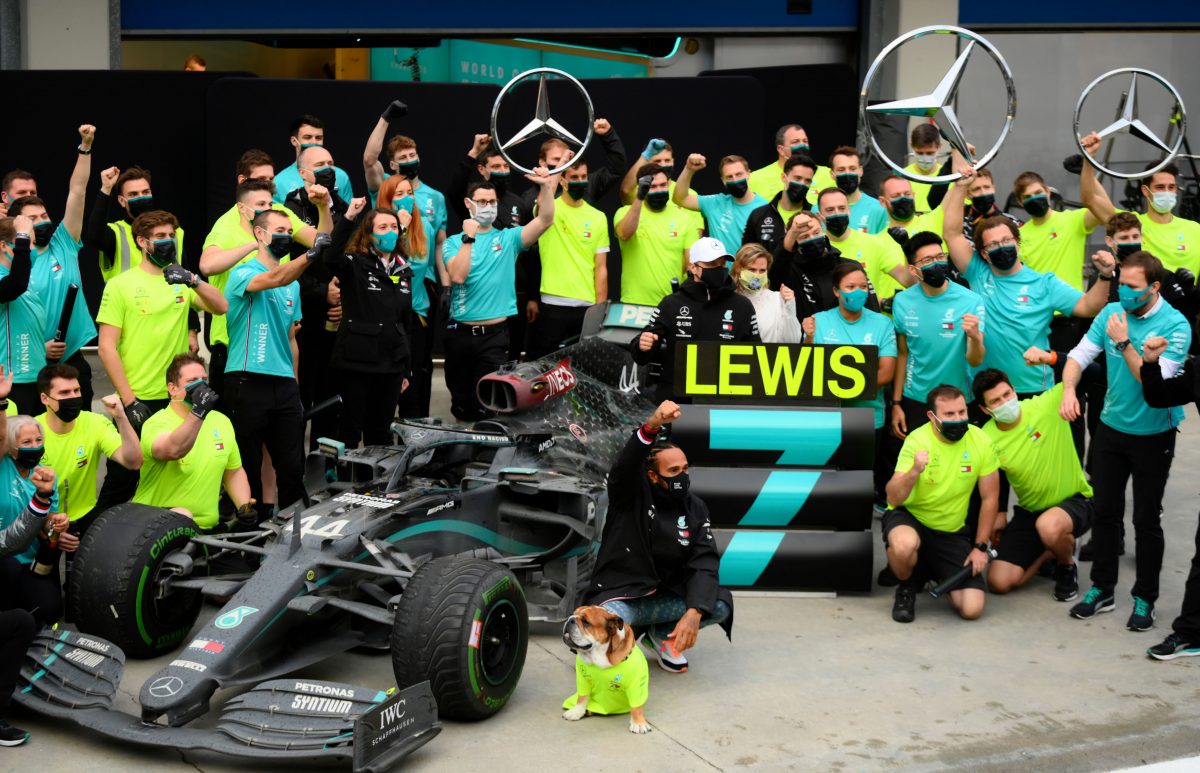 An emotional triumph for Lewis
After entering parc ferme, Hamilton sat in his car for a few minutes to take in the enormity of his achievement and to shed a few tears of joy.
It was Vettel who was the first to congratulate Hamilton, a powerful gesture considering the two had been title rivals for many years.
Many believed that after his fourth world title in 2013, it would be Vettel breaking all of Schumacher's records, not Hamilton.
In his post-race interview, it was clear to see how much it meant to the Brit. "It's so important for kids- dream the impossible. You've got to work for it, chase it, and never give up or doubt yourself," Hamilton said.
"I remember watching Michael [Schumacher] winning those championships, and to just get one, or two, or three- it's so hard to get. Seven is just unimaginable," said Hamilton.
Mercedes team principal Toto Wolff paid tribute to Hamilton after the race. "It shows how he is capable to cope with a situation that has gone against him. He was the only one to keep it on the road, and that is the difference today," Wolff said.
Hamilton takes his place amongst the greatest drivers of all time, and he is certainly the greatest of his era. He will look to break Schumacher's record outright in 2021 when he goes for his eighth world title, and few would bet against him doing it.