Racing Point's Sergio Perez scored his first F1 victory at the weekend's Shakir Grand Prix after George Russell's lap 79 puncture cost him a likely win on his first race for Mercedes.
The twenty-two-year-old stand-in for Coronavirus-positive Lewis Hamilton led at the end of the opening lap after overtaking his teammate Valteri Bottas in the first corner.
He led comfortably until lap 63 when Jack Aitkin, in the Williams Russell normally drives, collided with the barrier losing his front wing.
The safety car was deployed to clear debris off the track which Mercedes sought to capitalise on by bringing both their drivers in for a pitstop and on to fresh tyres.
Mercedes' pit stop fiasco
But a mistake by the team's mechanics meant Russell was given tyres allocated to his teammate, which is prohibited in the F1 rulebook, forcing the Brit to make another pitstop bumping him down the order into fifth place behind Bottas.
In an interview with Channel 4, Russell said: "I was literally 50 metres before the pit entry when they told me to box as that's when the safety car came out and I don't think the mechanics got the radio message."
Once racing resumed, he made an almighty charge to get himself back to the top of the field, completing a breathtaking overtake on Bottas into turn seven.
He made short work of Lance Stroll and Estaban Ocon to get himself into second and looked certain to get past first placed Perez, but engineer Peter Bonnington got on his radio to say the Brit had a puncture, forcing him to pit again and dropping him down to 15th with just 10 laps to go.
He worked his way back up to ninth, scoring his first world championship points, but was left wondering what could have been.
Russell said: "I've had victories taken away from me before, but twice in one race I just could not believe my luck."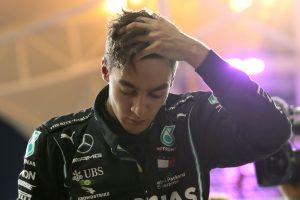 Perez went from last on lap one to win
Amid the disappointment for Mercedes, there was jubilation at Racing Point as the Mexican Sergio Perez scored his maiden F1 victory in his 10th year of competing in the sport.
Perez qualified an impressive fifth and made an even better start, overtaking Ferrari's Charles Leclerc and Redbull's Max Verstappen to run in third place by turn four.
But Leclerc locked his wheels into the corner sending him into the Mexican and spinning him around whilst Verstappen crashed out in an effort to avoid the Racing Point.
Perez had to make a pitstop, which took him down to dead last, and at that point he undoubtedly thought it would have been hard to salvage a strong finish from the race.
But the absence of the Ferrari and Redbull number ones thanks to the earlier incident meant there was a real opportunity for Racing Point to be best of the rest, behind the dominant Mercedes.
On the team radio, race engineer Tim Wright said: "So listen, Leclerc and Verstappen are out of this race. A lot can happen in this as we said before."
Perez cut through the field, making his was up to fifth place after the first safety car and going on to overtake teammate Lance Stroll and Renault's Estaban Ocon to take third behind the two Mercedes.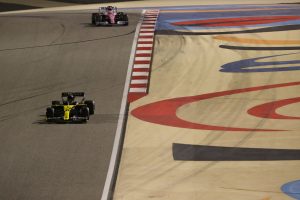 In the pitstop debacle that trounced Russell, Valteri Bottas had a slow stop and his mechanics were forced to fit him with a set of worn tyres which allowed Perez to take the lead.
Perez believes he may have won even without Russell's puncture
Russell had been catching up to Perez, reducing his gap to the Mexican from 3.589 seconds on lap 70 to just 2.249 seconds on lap 77 whilst overtaking three opponents.
This means he would almost certainly have caught him up, but Perez believes that even without the puncture he could have held the Brit off.
Perez said: "I could have held George. I think I had the pace today to win the race. Obviously we had a bit of luck with the Mercedes, but other than that we did a tremendous job."