Stuck for something to make for that special someone this Valentine's? Maybe they like sweet sugary donuts or rich chocolate puddings, or perhaps something more fresh and fruity? Look no further, these mouth-watering recipes will be sure to leave them sweet for you.
Molten chocolate puddings
Serves 8, Preparation: 15 minutes, Cook: approx 25 minutes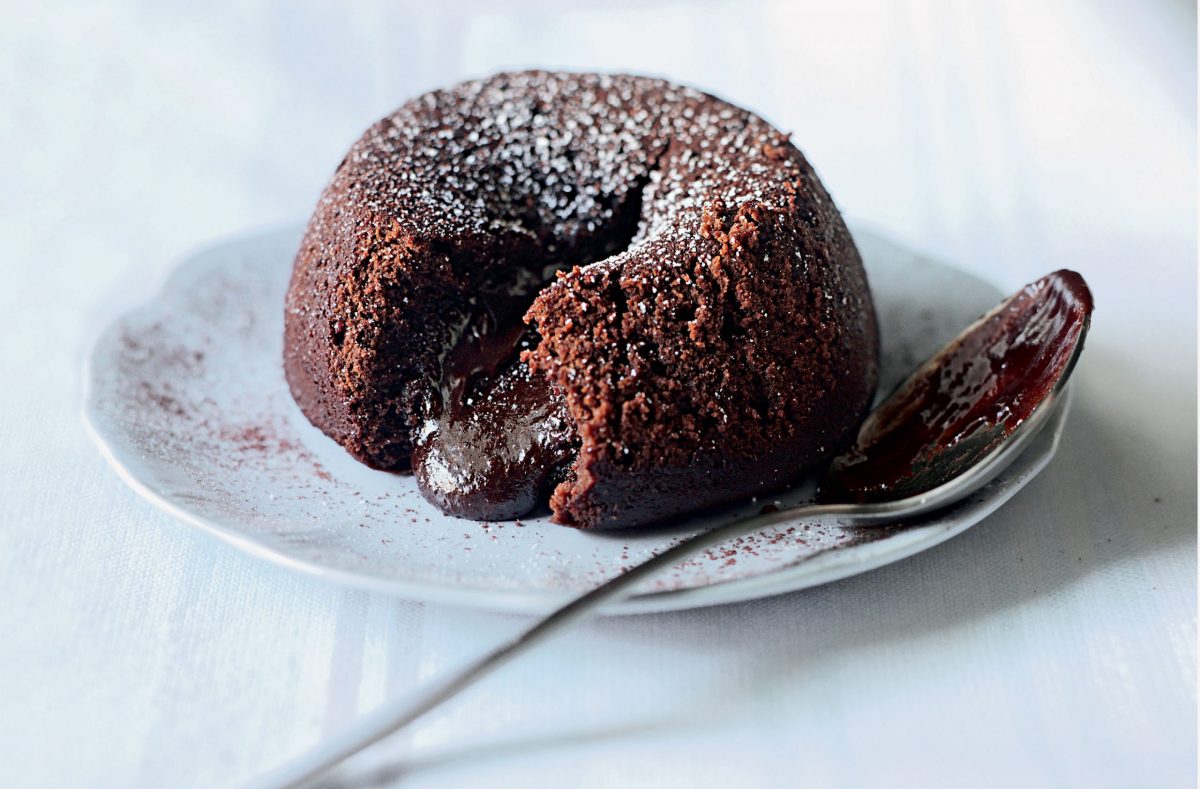 200g butter, plus extra to grease
200g dark chocolate, roughly chopped
4 medium eggs
125g caster sugar
2tbsp plain flour
2tbsp cocoa powder, plus extra to dust
8 Lindt chocolate balls
Preheat oven to 180°C (160°C fan) mark 4 and lightly grease 8 small ramekin dishes (or dariole moulds). Melt the butter and chocolate together in a heatproof bowl set over a pan of barely simmering water (make sure the base of the bowl doesn't touch the water). When melted and smooth, lift the bowl off the pan and set aside to cool.
In a separate bowl, whisk together the eggs and sugar using a handheld electric whisk, until light and fluffy. Fold in the chocolate mixture, followed by the flour and cocoa.
Spoon mixture into ramekins leaving about one third of the mixture in the bowl. Press the chocolates into the centre of the ramekins and top with remaining mixture.
Transfer to a baking sheet and cook for 15-20 minutes, until just set. Serve immediately, dust with extra cocoa, and serve with fresh cream and berries, if you like.
Strawberry donuts
Makes 12, Preparation: 25 minutes plus rising, Cook: approx 20 minutes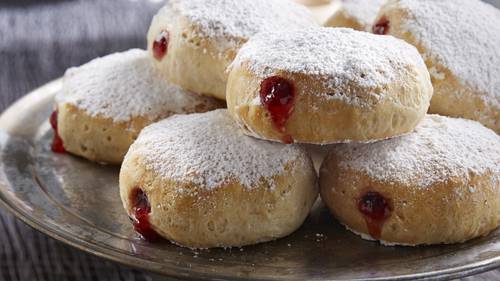 250g plain flour, plus extra to dust
7g sachet fast action dried yeast
100g caster sugar
100ml milk
25g butter
1 medium egg
Sunflower oil, to fry
175g smooth strawberry jam
1 and a half tsp ground cinnamon
Put flour, yeast and half the sugar into a bowl. Heat milk and butter in a pan until just warm, then tip into a jug and beat in the egg. Pour the liquid into the flour mixture and stir to make soft dough. Tip onto a lightly floured worktop and knead for five minutes, until smooth. Return to the bowl, cover and leave to rise in a warm place for 30-40 minutes.
Line a baking sheet with baking parchment and tip the dough on to a lightly floured worktop. Pat into a rough rectangle 1cm thick and stamp out 12 rounds with a 5.5cm pastry cutter. Set rounds on the baking sheet, cover and leave to rise for 20 minutes.
Fill a large, deep pan one third full with oil and heat to 150°C. Fry the doughnuts in batches of four until deep golden brown, about seven minutes, turning over halfway through. Lift the doughnuts on to kitchen paper to drain and leave to cool for five minutes. Repeat with the remaining doughnuts.
Fit a piping bag with a 5mm plain nozzle and fill with jam. Use a skewer to poke a hole into the centre of each doughnut through the side, push the remaining sugar and cinnamon and tip on to a plate. Roll the doughnuts in the sugar mixture and serve warm.
Chocolate truffle pots
Serves 2, Preparation: 10 minutes plus cooling, Cook: approx five minutes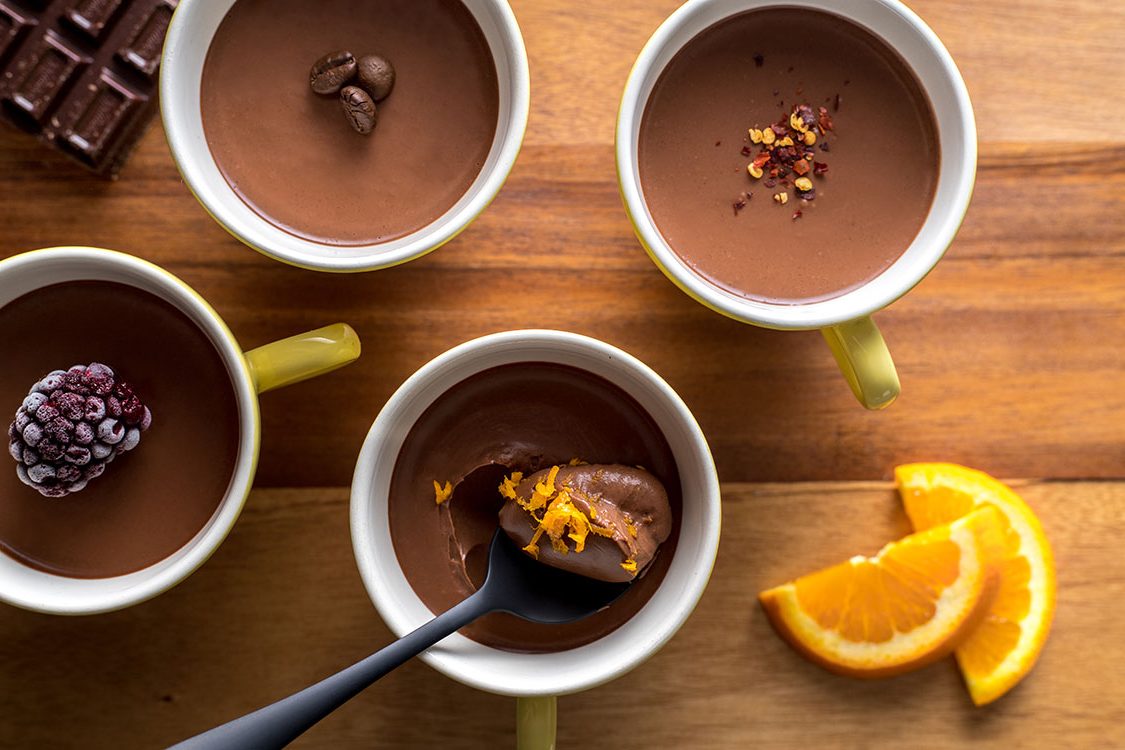 50g dark chocolate (70 per cent cocoa solids), chopped
1tsp golden syrup
1tbsp coffee liqueur, optional
100ml double cream
Melt the chocolate in a large heatproof bowl set over a pan of just-simmering water (make sure base of bowl doesn't touch water). Once melted, stir in syrup and coffee liqueur, if using. Remove from heat, leave to cool.
Meanwhile, pour the double cream into a small bowl, lightly whisk to soft peaks, then set aside.
Once the chocolate has cooled, fold through the whisked cream. Spoon into small ramekins or teacups and serve, or chill for one hour before serving for a firmer set.
Sprinkle with pomegranate seeds for a fruity twist, slivered pistachios for crunch, or even chopped honeycomb Crunchie bars for a less refined but addictive sweet treat.
Passion fruit soufflés with passion fruit sauce
Serves 4, Preparation: 15 minutes, Cook: 15 minutes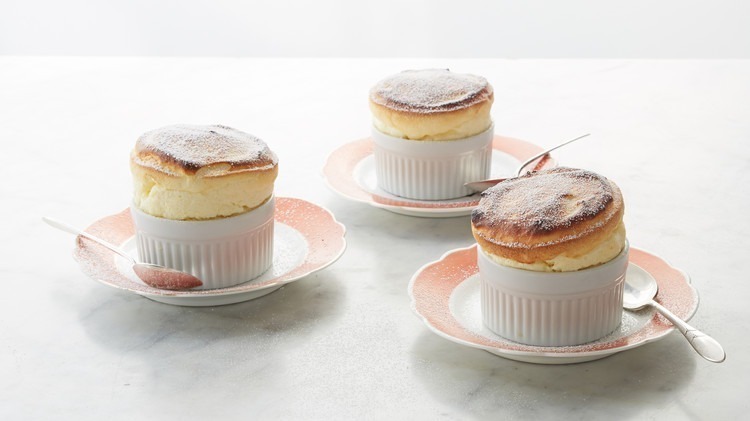 Knob of butter, plus extra for greasing
75g caster sugar, plus extra for dusting
4 medium egg whites
6 ripe passion fruits, halved
150ml ready-made custard
Heat oven to 180°C/160°C fan/gas 4. Put a baking tray on the top shelf to heat up. Grease four 150ml ramekins with butter and dust the insides with caster sugar to coat.
Whisk the egg whites in a bowl until stiff. Add one tbsp of the sugar and whisk for 30 seconds more until thick and glossy. In a separate bowl, scoop the pulp from one passion fruit into the custard, then fold in the whisked egg white. Spoon the mixture into the prepared ramekins and put on the hot baking tray. Bake for 15 minutes until risen and golden on top.
While the soufflés are cooking, make the sauce. Scoop the remaining passion fruit pulp into a saucepan, add the remaining sugar and simmer gently for five minutes. Finally add a knob of butter and stir until melted. Pass through a sieve and serve in a jug with the hot soufflés as soon as they come out of the oven. Let your guests break a hole in the centre of their soufflé, then pour in the sauce.
Salted caramel chocolate torte
Serves 8, Preparation: 1 hour 15 minutes, Cook: 10 minutes plus cooling and chilling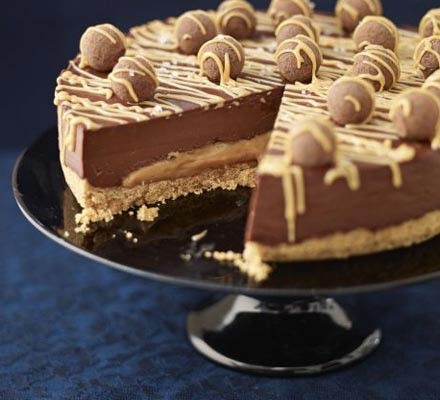 175g digestive biscuits
85g butter, melted
397g can caramel
1tsp sea salt, plus extra to serve
300g plain chocolate (70 per cent solids), broken into chunks
600ml tub double cream
25g icing sugar
2tsp vanilla extract
Salted caramel chocolates to decorate
Single cream to serve (optional)
Line the base of a deep, round 20cm loose-bottomed cake tin with a circle of baking parchment. Line the sides with one long strip that comes just above the sides of the tin – staple or paper clip where the strip overlaps to hold it in place.
Crush the biscuits in a plastic bag or bowl with the end of a rolling pin. Stir into the melted butter, then evenly press into the bottom of the tin. Chill for 10 minutes.
Reserve two tbsp of the caramel. Stir the sea salt into the remainder and spoon into the centre of the biscuit base. Gently spread so the base is evenly covered but a visible 1-2cm border of biscuit remains around the edge. Chill for 20 minutes while you make the chocolate layer.
Gently melt the chocolate in a large heatproof bowl over a pan of barely simmering water. Stir one tbsp of the cream into the reserved caramel, then cover and chill until ready to decorate. Once the chocolate has melted, turn off the heat but leave the bowl where it is, and gradually stir the remaining cream until you have a smooth, shiny, thick chocolate sauce. Sift in the icing sugar and stir in with the vanilla extract. Lift off the heat and let the mixture cool for 10 minutes.
Ladle or pour the chocolate mixture around the edge of the torte first, so it fills the biscuit border, sealing the caramel in the centre. Then ladle or pour in the rest and gently shake to smooth the surface. Chill for at least five hours or up to 24 hours until firm.
Remove the torte from the tin, then carefully peel off the strip of paper and transfer to a serving plate. Dot the chocolates on top. Spoon the reserved caramel-cream mixture into a small food or freezer bag. Snip off the tiniest tip of the corner to make a very small opening, then squiggle lines of caramel over the top. Chill until ready to serve. Scatter with a pinch or two of sea salt before serving, then thinly slice. Eat with a drizzle of single cream, if you like.
Champagne & raspberry possets
Serves 2, Preparation: 10 minutes, Cook: 5 minutes plus 2 and a half hours chilling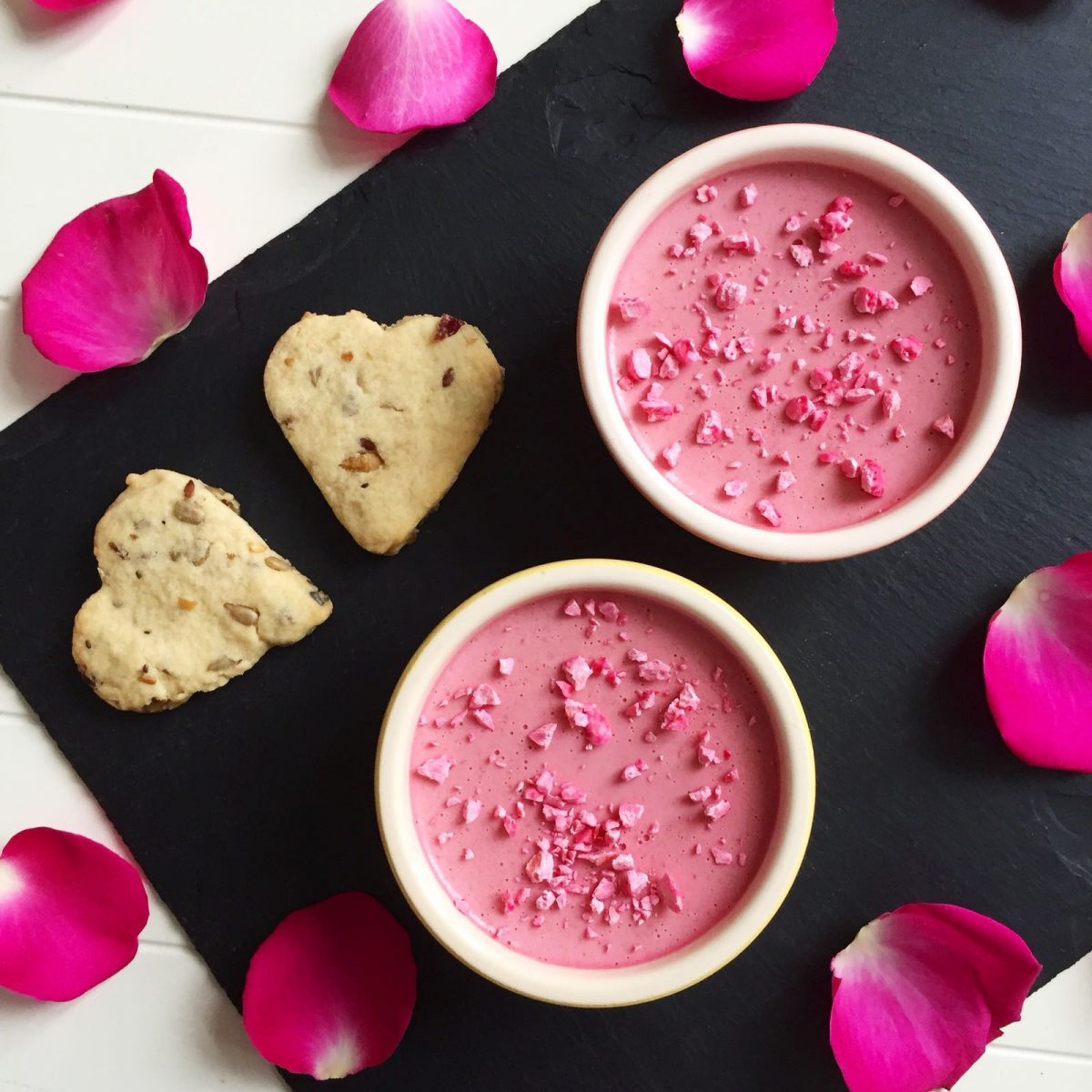 140g frozen raspberries, defrosted
2tbsp champagne
200ml double cream
4tbsp golden caster sugar
2tsp freeze-dried raspberry pieces
Shortbread biscuits, to serve
Put the raspberries and champagne in a mini food processor or blender (or use a jug and a hand blender). Whiz until the purée is as smooth as you can get it, then use a wooden spoon or spatula to push as much of it through a sieve as you can. Discard the seeds left behind.
Put the cream and sugar in a saucepan and warm gently until the sugar melts. Increase the heat until just boiling, then boil vigorously for two and a half minutes, stirring constantly. Turn off the heat and stir in the raspberry-champagne purée. Cool for 15 minutes before dividing between two small pots or glasses. Chill for 30 minutes, then sprinkle over the freeze-dried raspberry pieces and chill for at least two hours more until set (or overnight if your'e making ahead).
To serve, remove the possets from the fridge and add some shortbread biscuits.
Molten chocolate parcels
Serves 4, Preparation: 25 minutes plus cooling and chilling, Cook: approx 20 minutes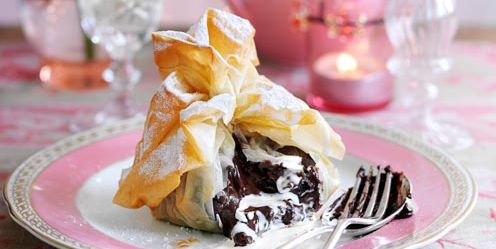 250g dark chocolate, chopped
60g butter, at room temperature
100g caster sugar
3 medium eggs, lightly beaten
1tsp vanilla extract
40g plain flour
8 large filo pastry sheets
Icing sugar, to dust
Cream, to serve
Melt the chocolate in a heatproof bowl set over a pan of barely simmering water, making sure the base doesn't touch the water. Set aside to cool for 15 minutes.
In a large bowl, using a handheld whisk, beat together 40g of the butter and all the caster sugar until pale and fluffy. Gradually add the eggs, beating well after each addition. Beat in the vanilla. Fold in the flour with a large metal spoon. Fold in the melted chocolate. Chill until firm, about one hour.
Melt the remaining butter. Trim the filo sheets into rough 30.5 x 30.5cm squares. Lay out four of the squares, then brush each with melted butter. Top each one with another square and brush again with butter. Then, using your hands, shape a quarter of the firm chocolate mixture into a ball and put in the middle of one of the squares. Repeat with the remaining chocolate mixture and filo squares. Wash your hands before gathering the pastry above the filling, squeezing tightly to seal and scrunching lightly on top. Transfer parcels to a baking tray and chill for 30 minutes.
Preheat oven to 180°C (160°C) mark 4. Bake the parcels for 15 minutes. Dust with icing sugar and serve with cream.