Researchers at Tommy's National Centre for Maternity Improvement have developed a new screening tool to reduce the number of baby deaths for women from Black, Asian and minority ethnic backgrounds.
The new piece of technology will help to reduce the loss of pregnancy by 60 per cent.
The tool has been designed to pick up the risks that an individual woman has during pregnancy so that hospitals can provide maternity care to fit their needs.
Health disparities in healthcare for Black, Asian, and women from ethnic minority backgrounds still exist even when socioeconomic factors such as income and demographic factors are taken into account. Issues like racial bias are a possible reason for these disparities.
A study was released in February 2022 by Tommy's National Centre for Maternity Improvement, led by the Royal College of Obstetricians and Gynaecologists as well as the Royal College of Midwives.
They compared the National Institute for Health and Care Excellence (NICE) risk assessment with the new screening tool when women had their first trimester pre-eclampsia (high blood pressure and sometimes fluid retention during pregnancy) risk assessment.
The National Institute for Health and Care Excellence (NICE) risk assessment fails to look into the ethnicity of pregnant women. But the new screening does take ethnicity into account as well as maternal history.
This study concluded that when screening using the NICE checklist, perinatal deaths were higher in women from ethnic minority backgrounds compared to white women. But, when using the new screening algorithm, this number dropped from 7.95 to 3.22 baby deaths out of 1000 births.

President of the Royal College of Obstetricians and Gynaecologists Dr. Edward Morris said: "The digital tool… provides a practical way to support women with personalised care which also helps women to make informed decisions about birth."
St George's Hospital is one of the first hospitals to use this screening tool.
Black and Asian women are more likely to experience still birth and with the new screening tool, factors will be taken into account to fit the needs of the individual woman which the old screening tool does not do.
Professor Basky Thilaganathan led the research and said that the new tool would help get rid of inequalities in the healthcare system for women from different ethnic minority backgrounds.
He said: "It's incredibly exciting to see that changing from the standard pregnancy risk factor checklists to our new approach can directly address and almost eliminate a large source of the healthcare inequality facing Black, Asian and minority ethnic pregnant women."
The pregnancy screening tool also looks to tackle the current care given to mothers during and after pregnancy.
The midwifery manager at Tommy's, Amina Hatia, who has been a midwife for over 16 years said that midwives provide for women from all backgrounds and that there are changes that are starting to be made in conversations surrounding equality.
Hatia said the new pregnancy screening tool would cater for people who experience recurrent miscarriage which is when a woman has more than one miscarriage.
Regarding equality and diversity within maternity care, Hatia said how the midwifery curriculum has changed over the years to make sure that racial disparities within the healthcare system are lowered.
She said: "We have yearly updates where we talk about equality and diversity, but we can be doing better.
"We can decolonise the curriculums and that is one part of it, but we also need to make sure that the midwives we are training also reflect the society that we live in and the people who are accessing maternity care."
Hatia said her daughter who is also training to be a midwife, has noticed a change in the conversations happening about the inequalities in healthcare like racial bias.
What does the public think of this new screening tool?
Sarah Jane Brownlie, 51, a researcher of disability-related poverty, said: "[The tool] is an important recognition of institutional disparity in services.
"However, it is not a solution as the disparity runs through other issues such as income access, to employment, housing, disability, legal outcomes, community services, and to education. All of which have a massive impact on outcomes."
Ruth Barnes, 42, said: "Anything that can support [women] better through pregnancy and birth which can potentially make it safer for mum and baby has got to be hugely welcomed."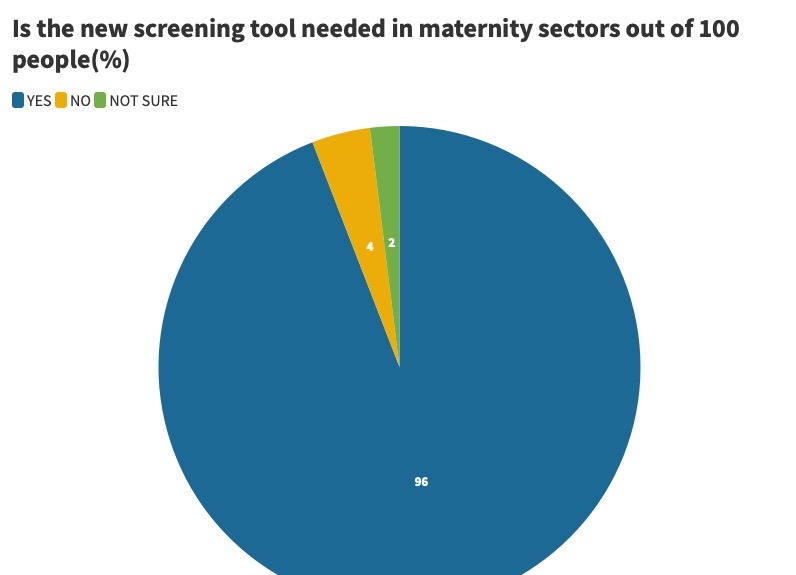 In a survey of 100 people aged between 20 and 60 years old, they were asked whether the new screening tool was something that is needed in maternity sectors. 92 per cent said yes, 6 per cent said no and 2 per cent said they did not know.
The NHS aims in its Long-Term Plan to reduce maternal mortality by 50% by 2025.