Despite global and national measures to contain COVID-19, the daily death toll and new cases are increasing alarmingly fast, according to the World Health Organisation (WHO).
WHO officially declared Coronavirus disease 2019 (COVID-19) a pandemic on 11 March. By 30 March it was affecting 204 countries and with almost 700,000 confirmed cases worldwide.
In a WHO media briefing, Dr Tedros Adhanom Ghebreyesus, WHO director-general, said:
"The rapidly increasing demand on health facilities threatens to leave some health systems unable to operate effectively.
"Previous outbreaks have demonstrated that when health systems are overwhelmed, deaths due to treatable conditions increase dramatically."
In a daily briefing on COVID-19, Professor Stephen Powis, National Medical Director at NHS England, said, less than 20,000 deaths from COVID-19 in the UK would be a "good result".
The chart below shows the top 20 countries with the most cases of COVID-19 as reported by 30 March.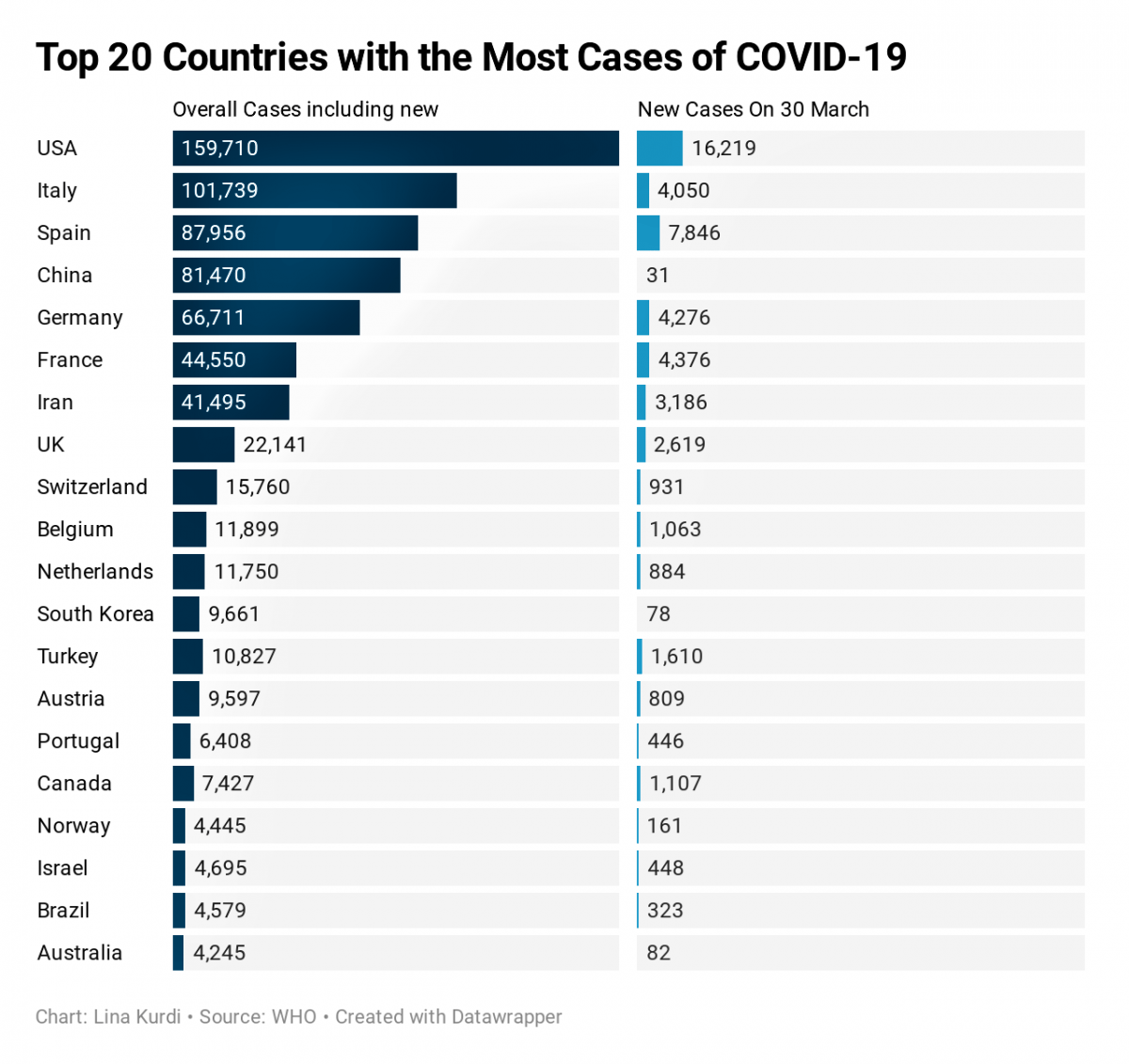 These statistics show, USA had the overall highest number of people infected with COVID-19 from the beginning of the outbreak to 30 March with an increase of 16,219 cases.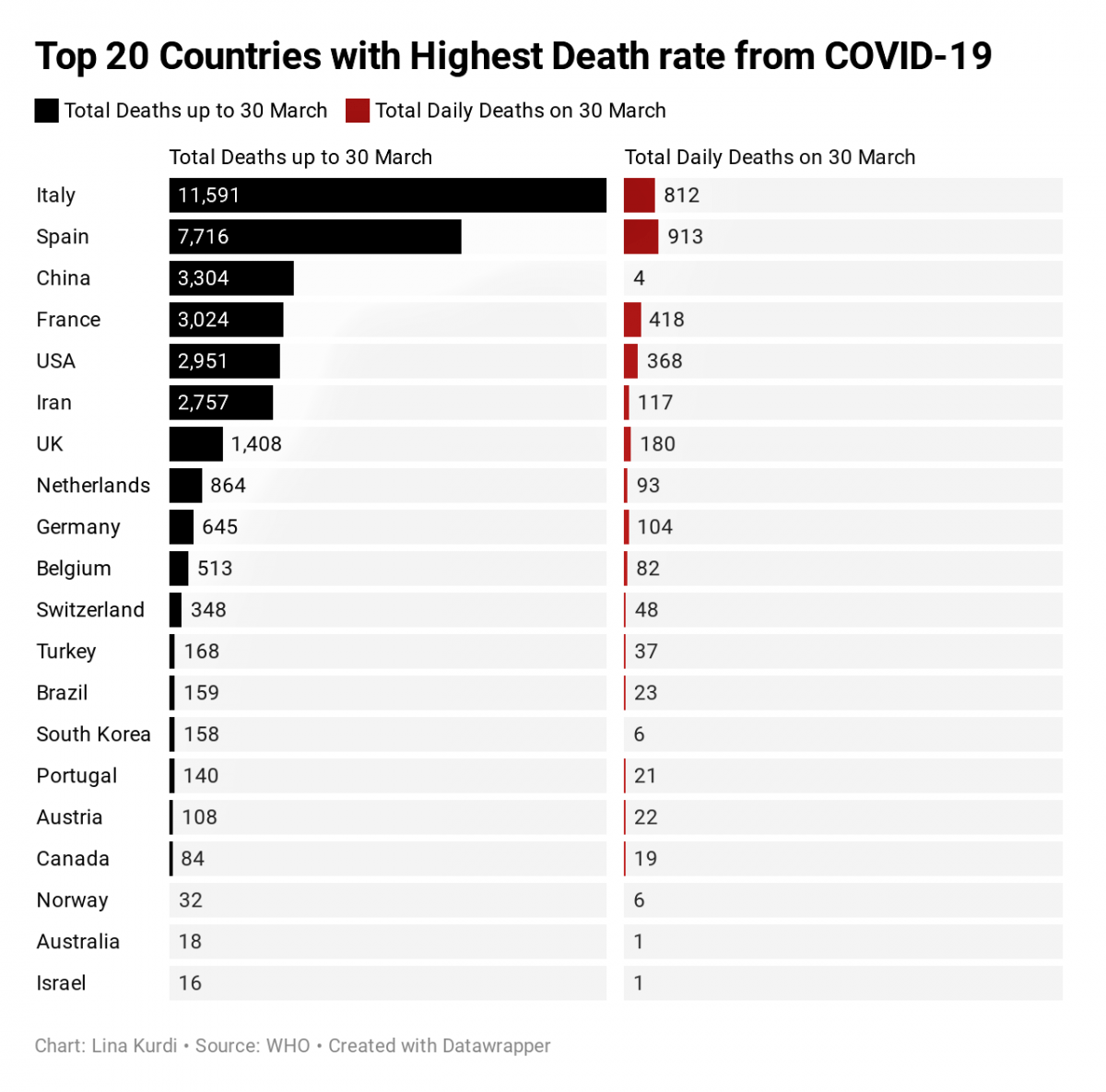 These statistics show, Italy had the largest number of total deaths from the start of the COVID-19 pandemic up to 30 March with 11,591 deaths.
Spain had the highest daily death rate with 913 deaths reported in the 24 hours to 30 March.
Origins of COVID 19
Initially, on 31 December, China alerted WHO to several unusual pneumonia cases in the port city of Wuhan.
All the people with pneumonia worked at the same local Huanan Seafood Wholesale Market, which sold live and dead animals.
Markets that sell dead and live animals have a high risk of viruses from animals infecting humans as animals are kept and butchered in densely packed spaces.
In early January 2020, health experts found this virus was not a repeat of Severe Acute Respiratory Syndrome (SARS), which infected humans from an animal source (still unknown) originally in China in 2002 until 2003.
SARS killed almost 800 people worldwide out of the approximately 8,000 people infected.
According to WHO, on 7 January, Chinese officials announced they found a new virus, COVID-19.
COVID-19 was identified as part of the coronavirus family, viruses that cause disease in animals, which includes SARS and the common cold.
The animal source of COVID-19 has been narrowed down to bats or pangolins.
It is suspected that bats could have infected live animals before they reached the Huanan Seafood Wholesale Market as bats were not sold there.
COVID-19 PANDEMIC
In just a few months COVID-19 became a pandemic outbreak as it spread around the world.
On 11 January, China announced a 61-year-old who visited the market was the first casualty of COVID-19 in the country.
The WHO reported on 13 January that Thailand had the first case of CODVID-19 out of China
After that officials from USA, Nepal, France, Australia, Malaysia, Singapore, South Korea, Vietnam and Taiwan all confirmed cased of COVID-19 in their country.
For more information, The WHO has uploaded an interactive map of all the countries affected by COVID-19, which automatically updates, every day, after midnight.
For information about COVID-19 symptoms and how to prevent spread of infection visit the NHS website.