Councillor Kevin Davis has criticised Lib Dem MP Ed Davey for spending £45,000 on curtains, despite his own administration having overseen the purchase.
He said in a tweet over two weeks ago that MP Ed Davey and his party were responsible for the purchase. "It emerges that Ed Davey's Lib Dem Council spent £45k on curtains for three meeting rooms when they tell us times are hard and the council is bankrupt," Davis wrote.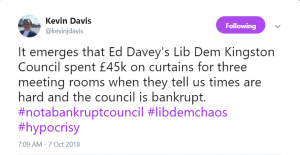 However, it appears that the purchase "has nothing to do with MP Ed Davey", and that "the decision was made under Kevin Davis' own administration last year", said Cllr Dave Ryder-Mills.
Another spokesperson at the Council added: "The decision to replace the curtains in the Queen Anne Suite and Council Chamber was made in December 2017.
"The curtains cost £45,000 to purchase and install but the potential revenue from the commercial hire of these two function rooms is expected to offset this capital investment."
Prior to the local Council elections held in May 2018, Kingston Council was under Cllr Kevin Davis' leadership.
Davis has not responded to the Courier's request for a comment.