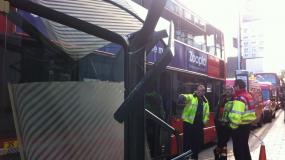 A double decker bus collided with a bus shelter in Kingston town centre yesterday.
Transport for London is unsure as to what caused the incident which happened on Eden Street and involved the number 71 bus from Chessington.
A representative from Transport for London, said: "There was a collision with a bus shelter at 12.54 but no one was hurt.
"Customers are now using a temporary bus stop until repairs are completed."
The bus' wing mirror impacted with the bus shelter and dragged it forward shattering glass and breaking its roof.
Workmen arrived at the scene to assess the damage and corner off the area for public safety although glass remained scattered across the pavement.
Transport for London was unable to comment as to when the repairs would be finished.
Public transport has not been affected by the incident and service of the number 71 has resumed.