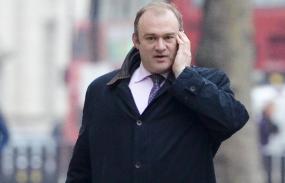 Ed Davey claimed £20,431.87 from the tax payer to pay for his constituency office last year – even though the office was owned by his own party.
The office rented by Mr Davey, 21 Berrylands Road, Surbition, KT5 8QX, was bought by the Kingston Liberal Democrat Property Company Ltd in 2003 for £200,000.
The practice, known as 're-renting', is when an MP rents an office from the local political party with which they are affiliated.
One in three MPs now have these sort of arrangements – leading to worries that taxpayer money is being used to fund political parties – and the Independent Parliamentary Standards Authority (IPSA) are launching an investigation.
Sir Ian Kennedy, chair of IPSA, said: "Our rules allow MPs to rent from a political party – but we require an extra assurance from MPs if they do so: an independent valuation that the lease represents the market rate. We are confident that this measure means taxpayers have received value for money from these leases.
"As part of a broad review of accommodation support, IPSA will consider whether, even if the individual leases are appropriate, the cumulative effect means we need to reconsider this aspect of the rules".
Edward Davey's office re-iterated its previous comment that: "All MPs need an office to meet constituents and carry out casework on their behalf. Edward Davey pays a market rate rent, agreed and signed off by IPSA, for the rent of his constituency office.
"Along with the rent of the two other tenants, that rent goes to Kingston Liberal Democrat Property Company Ltd to pay towards mortgage, running and maintenance costs on the property. The company does not pay its directors and no director has ever received a payment from it."
Ed Davey's wife, Emily, is one of the four directors of the Kingston Lib Dems Property Company.
Laurie South, chair of Kingston and Surbiton Council Labour Party, said: "If Edward Davey is claiming excessive expenses to subsidise the local Liberal Democrats out of the tax-payer's pocket, then it blows a gaping hole in his "purer than pure" claim that he did not fiddle MPs expenses.
"I have no objection to this practice so long as the rents are fair and competitive, and it is completely transparent and declared in tax returns."
When the Liberal Democrat Property Company bought the property, it took out a mortgage with the Bank of Scotland. As of 31 December 2012, it is believed the company owes £159,459.
At the time, the base rate of interest set by the Bank of England was 4 per cent, and has since fallen to its current 0.5 per cent.
Even at the height of inflation in 2007, 5.75 per cent, the mortgage would have been around £10,000 per year. At the current rate though, this would be significantly less, meaning several thousand pounds are unaccounted for.
Mr Davey's office have said his claim was for energy bills as well as rent.
Image courtesy of Steve Back/REX