The number of women attending vital breast cancer screenings at Kingston hospital bounced back last year following a fall during 2020.
The number of mammograms carried out at Kingston Hospital dropped by over 12 per cent in 2020, according to a freedom of information request by the Kingston Courier.
The number of screenings carried out in 2021, however, bounced back to pre-pandemic levels, with 7207 carried out. The three year average prior to pandemic was 7268, though there is still likely to be a backlog.
Kingston Hospital has not responded to requests for comment.
Number of breast cancer mammograms carried out by Kingston Hospital NHS Foundation Trust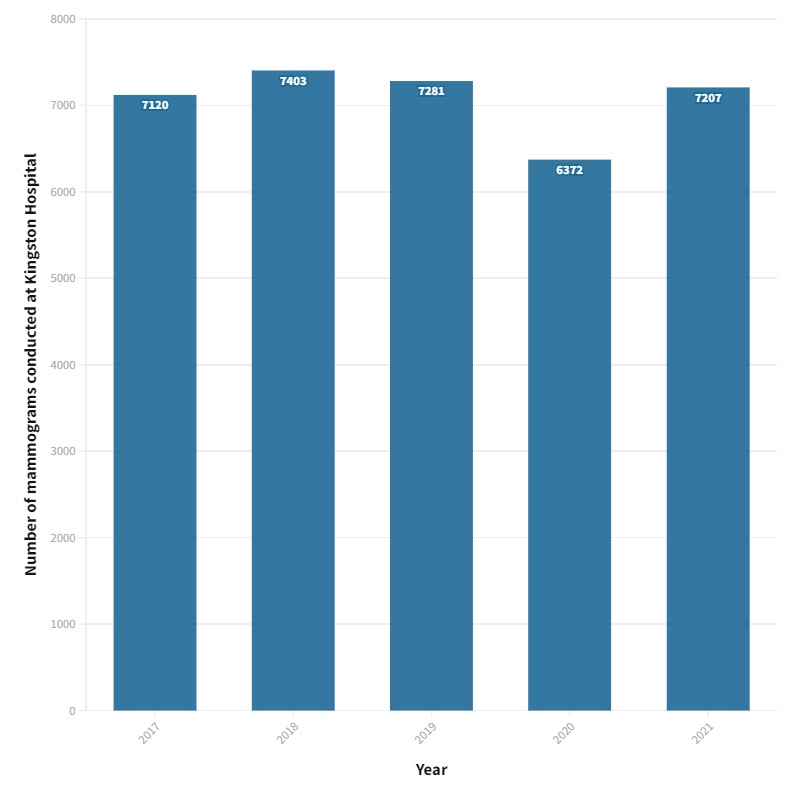 A mammogram is an X-ray picture of the breast, which doctors use to look for early signs of breast cancer. Regular mammograms are the best tests doctors have to find breast cancer early, sometimes up to three years before it can be felt.
Despite a fall in screenings during the pandemic, many people still had positive experiences when getting screened at the hospital.
Kingston resident Anna Gulliver and her mother both received mammogram screenings at Kingston Hospital during the pandemic, and Gulliver's mother was diagnosed with breast cancer in April last year.
Speaking about her mother, Gulliver said: "She was seen very quickly after her mammogram and the treatment she has received has been unbelievably good.
"Her treatment has been second-to-none and all during a pandemic – I can't fault Kingston hospital at all."
Following her mother's diagnosis, Gulliver went for a mammogram herself and was seen within two weeks.
Eva Katona also had a biopsy taken at Kingston Hospital in December following a referral by her GP.
She said: "Everything was smooth and it only took a few weeks all in all. Luckily I was clear and I was very pleased with [Kingston Hospital's] efficiency".
Katona also had a message for women who may be fearful of having a vital breast cancer screening. She said: "It's much better to catch it early and most problems don't mean you have cancer.
"I've learned that that with early modern detection and modern treatments, cancer patients now have a much better chance than ever before."
National issue
The data coming from Kingston Hospital suggests a different trend to research carried out by Breast Cancer Now, which revealed that the number of women who had not had NHS breast cancer screenings increased by 50 per cent during the pandemic. This may have left up to 12,000 people across the UK with undiagnosed breast cancer.
Breast Cancer Now's research, released during breast cancer awareness month last year, covered the period from March 2020 and May 2021. It found that around 1,480,000 fewer women in the UK had breast screenings during this period compared to pre-pandemic levels.
This may suggest Kingston Hospital has bucked the national trend.
Baroness Delyth Morgan, chief executive at Breast Cancer Now, said: "A year ago we reported with concern that almost one million women had potentially missed breast screenings due to services being paused in the first wave of the pandemic.
"Women with breast cancer are continuing to pay the price due to the impact of the pandemic, and in the worst cases delayed diagnoses could mean that some women die of this devastating disease."
Breast Cancer Now's research came after Cancer Research UK's findings that three million fewer people were screened for cancer in the UK between March and September 2020, compared with pre-pandemic levels.
Morgan urged the government to address the issue through investment in vital services.
She said: "It has to continue investing in scanners and IT connectivity, as well as push through stalled service improvements.
"Ultimately, we cannot get away from the need to invest in people. The NHS needs more imaging and oncology staff to ensure future breast cancer patients get the care they deserve."
What are the symptoms?
According to Cancer Research UK, the first symptom of breast cancer most people notice is a lump in their breast or some thickening.
Breast symptoms to look out for:
a new lump or thickening in your breast or armpit
a change in size, shape or feel of your breast
skin changes in the breast such as puckering, dimpling, a rash or redness of the skin
fluid leaking from the nipple in a woman who isn't pregnant or breast feeding
changes in the position of the nipple
More information on breast cancer can be found here.