Kai Havertz has struggled at times since his blockbuster £72 million move from Bayer Leverkusen to Chelsea in 2020, but he has certainly found his form this season. Although Chelsea spent £100 million on Romelu Lukaku, performance metrics indicate that Havertz is Chelsea's most important attacking player.
He has scored some crucial goals recently, including winners in the Club World Cup Final and in crucial games against Lille, Norwich and Newcastle.
At the start of the season, Tuchel tried playing a front three of Mount, Havertz and Lukaku. While it was promising on paper and Lukaku was scoring regularly, the attack wasn't very cohesive, and the team wasn't scoring enough goals.
Lukaku was injured in October and was forced to miss eight games. In this period, Havertz played the central striker role and Chelsea achieved some of their best results of the season.
The numbers are clear; in 14 games playing the inside forward role next to Lukaku, Havertz scored two and assisted two. In 18 games playing as a central striker, he has scored eight and assisted three, which is a very healthy return. The German attacker's talents are wasted out wide.
Expected goals
Expected goals (xG) is a football metric which has revolutionised football analytics. xG is calculated by assessing the likelihood of a player converting their chances over a match. This is calculated by comparing the distance from goal to historical chances. For example, an uncontested shot from the penalty spot would have an xG of 0.9, whereas a 30-yard shot from the wing would have an xG of 0.01.
Havertz's xG is the highest in the Chelsea squad, with a total xG of 6.49. This means that the Chelsea attack functions better with him in the team as the creative players are supplying him in more dangerous positions than anyone else. It is also notably higher than Lukaku's xG of 5.04 despite Lukaku playing centrally in more games.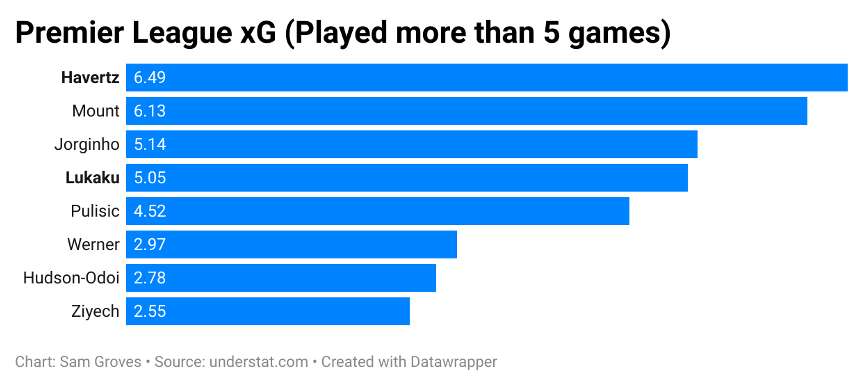 This reflects the quality of his movement, an often-overlooked attribute in the modern game. When playing down the middle, Havertz can pull away into either channel with his agility and explosiveness over short distances. These clever movements are what gives him such a high xG. He has also shown recently he can convert these chances into goals if given a consistent run in the team.
While he cannot compete with Lukaku's Premier League goalscoring track record yet, the Belgian has over 100 goals in the English topflight, Havertz has shown in Germany and this season that he has the potential to be an elite goal scorer for the next ten years.
He is yet to match his two prolific seasons in the German Bundesliga which earned him his move to the Premier League. However, if we look at his xG per game, calculated by dividing his total xG by 90, he has improved every year for the past four years.

In all competitions, Havertz is leading Lukaku in the number of free kicks he has earned for his team, the number of shots on target and the success rate of his passing. Both players have played a similar number of games and these statistics show that Havertz's all-round contribution to the team has been significantly greater.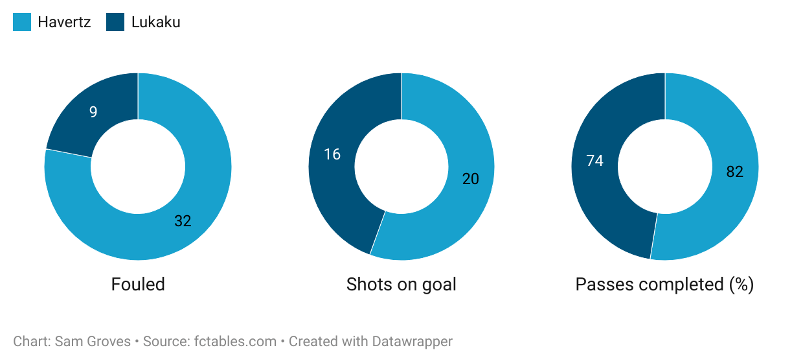 The most significant of these statistics is the pass completion rate. Havertz's success rate is eight per cent higher than Lukaku's. This is an enormous difference between two professional players and is having a real impact on results.
While it may seem counter-intuitive given he is 20 kilograms lighter than Lukaku, Havertz has proved himself better at holding up the ball due to his dribbling and passing ability.
Chelsea's attack is a lot more fluid when Havertz plays as he is a lot better at feeding his teammates in dangerous positions. Many fans have noticed the difference in how the team plays when Havertz leads the line instead of Lukaku.
Martin Hargraves, season Chelsea ticket holder at Stamford Bridge, said: "The difference is so obvious, Lukaku looks isolated in his games whereas Havertz will come deep and try and get on the ball. The team looks so much more fluid when he (Havertz) is playing up top."
A Kingston Courier poll on a Chelsea fan Facebook page found that 67 per cent of Chelsea fans want Havertz to start as central striker for the remainder of the season. Only 20 per cent want Lukaku to play there and three per cent want Christian Pulisic, who usually plays as a winger but has played as a false nine striker for much of the season. 
Lukaku is a more lethal finisher and has cost the club a lot of money. He should not be discounted, but Havertz is getting into more dangerous positions and his superior passing and dribbling abilities make him a more complete striker which greatly benefits the rest of the team.
Havertz is still only 22 and his performance metrics show that Chelsea should use him centrally and build the team around him. 
Latest posts by Sam Groves
(see all)