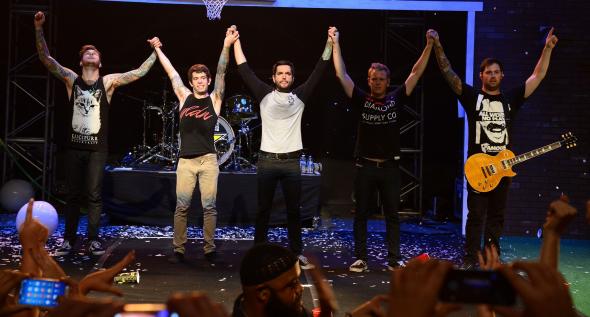 A popular American band crashed a local record shop's website servers on Tuesday when fans were desperate for tickets to an intimate in-store gig.
A Day To Remember announced that they will be playing at Banquet Records on Monday (November 18) to promote their new album Common Courtesy and tickets went on sale just four hours later.
However, due to the abnormally high traffic to the shop's website, the servers went down for the first time ever and many rock fans were left disappointed as the show sold out in well under an hour.
Banquet Records posted on Tumblr later that night to explain the server problems and why the capacity was so low, as there were also complaints that the crowd size of 109 was too small and "unfair".
The post said: "it was decided this should be a one off super special intimate show in the record shop. After all, for whatever reason the band wanted to come to Banquet, it was Banquet they wanted to come to.
"We kept a few tickets back for people who'd already pre-ordered the album from us (and make no apologies for this) and a few spots for label and management and then we tried to make the tickets available to everyone AS FAIRLY AS POSSIBLE."
Frustrated hopefuls on Facebook included Jamie Delicata, who said: "Tried for the last half an hour to buy tickets went to put them in my basket twice and crashed. Kept crashing ever since found out the tickets didn't get to my basket now its [sic] all sold out."
However, others were more supportive of the independent store's endeavours. Matthew Hitch said on Twitter: "Props to Banquet Records for booking the show anyway, its [sic] not every day you see an ARENA band playing a local shop…"
Image courtesy of REX