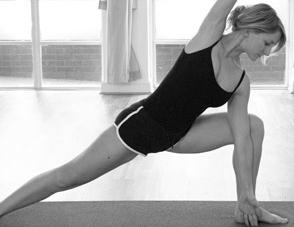 Yoga has become a great alternative for those that want to work out the body and relax the mind all at once.
Classes are offered in the dance studio at Kingston College in one hour slots on Mondays 7:00-9:15pm and Saturdays 10:00am-12:30pm for up to 10-12 weeks.
During a typical Saturday morning class, expect to walk in the door automatically feeling relaxed by the soothing sounds of music and soft scents.
Stephanie Harrison, yoga instructor, begins the class with natural positions like lying flat on the back and deep breathing exercises to calm the mind.
A student will never be forced to surpass their body's flexible limitations but should not under-estimate what is possible when attempted, according to Stephanie.
A movement like the downward facing dog increases blood circulation, stretches the back leg muscles and expands the chest.
Laying flat on the floor and lengthen both legs into the air, almost into a shoulderstand, creates a tightness in the abdomen enhancing the chance at a flatter stomach.
The extended triangle , eagle and locust pose are just a few more movements that not only build body strength, tones the muscle but challenges the mind to clear out noise and promote mental focus.
As intimidating as some of the yoga positions may seem, the key to completing each one is to breathe deeply during the movements.
Keith Jones, 58, yoga student, has been doing yoga with his wife for almost three years and enjoys how flexible he becomes after each class.
"I plan to continue this for as long as possible," he said.
This class is also offered to pregnant women at any point of their pregnancy.
Of course the movements are much friendlier to the body and safe on the baby such as ankle stretches to reduce swelling and circular hip rolls to release back strain.
"Doing such things like deep breathing becomes routine and done naturally during delivery", Stephanie said.
Some reasons that the mums-to-be attend yoga are to balance their emotions, get out of the home and to reduce or maintain pregnancy syndromes.
Stephanie is offering the first session for FREE to readers hoping to prove that anyone can do yoga and will benefit greatly from attending the class.
Unlike a gym that requires pricey membership and has separate machines to work out each part of the body. Yoga cost almost half as much, works on multiple muscles with single movements and reduces the time spent exercising.
Yoga sessions are available on Tuesdays and Wednesdays at a Surbiton location. Contact Stephanie at stephanie@yogawith.com to book a session and obtain information on her weekend health retreats.