London has seen a bigger drop in weekly Covid cases than other regions.
Official figures show the seven-day rate of cases fell faster in the capital from February 10 to February 17, as some boroughs saw a decrease of half in a week, according to MyLondon.
London director for Public Health England Professor Fenton said: "Case rates, new hospitalisations and deaths are continuing to decline and the number of Londoners protected by a life-saving vaccination is rising each day.
"However, our hospitals still have high levels of Covid-19 patients requiring treatment so we must keep momentum up and continue driving the virus down."
The weekly rate of infections has fallen the fastest in London by a surprising 42.1 per cent.
12,000 people tested positive in the week of February 10 to February 17, compared to 21,000 the previous week, a drop of 9,000.
Southwark had the biggest decrease in confirmed cases, falling by 52.6 per cent in the week, with Richmond coming in close second with 51.7 per cent.
The infographics below include five boroughs with the biggest percentage decrease in cases (Southwark, Richmond, Sutton, Greenwich and Barnet) and five boroughs with the lowest percentage decrease in cases (Merton, Barking and Dagenham, Islington, Havering and Hammersmith and Fulham).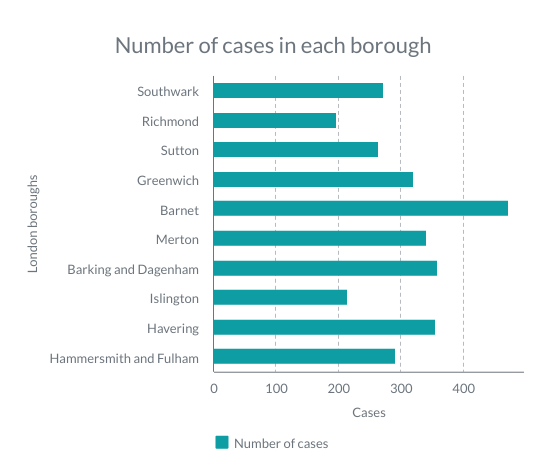 Charts: Sophie Locke-Cooper. Source: MyLondon News
London has an average infection rate of 126.8 per 100,000 people, compared to the January peak of 1,118.8 per 100,000.
There are seven London boroughs which have fallen below the rate of 100 per 100,000 people with Covid. These are: Camden with the lowest rate, 74.1 per 100,000, Westminster at 83 per 100,000, Hackney and City of London at 85.6 per 100,000, Southwark at 85.6 per 100,000, Tower hamlets at 85.9 per 100,000, Islington at 88.7 per 100,000, Kensington and Chelsea at 98 per 100,000, and Richmond at just below 100 with 99.5 per 100,000.
Ealing is the only borough to have a rate above 200, with 215 per 100,000.
Twenty-one boroughs saw cases drop below 40 per cent in just a week, and a third with 30 per cent.
The smaller decline was in Hammersmith and Fulham with 32.5 per cent, closely followed by Havering with 32.6 per cent.
A spokesman for Mayor Sadiq Khan said: "The drop in cases in London is testament to the heroic efforts Londoners have made staying at home and continuing to follow the rules.
"However, the Mayor believes it is vital we all keep up these efforts, and continue to act with real caution."
During the second wave peak on January 18, there were 7,917 patients in London's hospitals, and as of Monday there were 3,603.
The number of patients went down by just over a half.
The south east of London saw a decline in cases of 38.8 per cent and the south west had a decline of 28.8 per cent.
Across England saw West Midlands with the largest decline in cases, with a fall of 28.2 per cent.
It also saw East Midlands down 22.9 per cent, the North West fell 24.7 per cent, the North East down 21.2 per cent, Yorkshire and the Humber fell 12.7 per cent and the Eastern region had decreased by 36.5 per cent.
Although Khan had praised everyone's efforts, he made it clear that they should continue.
The spokesman said: "The vast majority of over 50s and 60s have still not been vaccinated, and case numbers in London remain higher than when restrictions were lifted last summer.
"We simply can't afford to repeat the mistakes of previous lockdowns by lifting restrictions too soon, seeing cases rise again, and having to move into yet another period of lockdown."