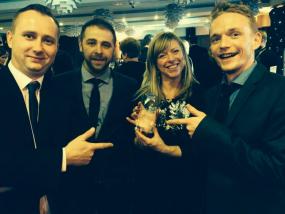 The Canbury Arms pub came up trumps with a double win at the Kingston Business Excellence Awards.
Their first win of the night was for Best Business Marketing and Social Media, whilst the second, and ultimate, was the coveted Business of the Year award.
Kingston Courier tweeted congratulations to the "thrilled" winners, who within five minutes replied "thank you, still celebrating" to their 677 followers.
When asked via twitter, what the secret of a successful social media policy, The Canbury arms, under the name 'Mike and the team', replied: "only send what you would like to receive, humour and passion! Can't go wrong with that."
Mike Pearson, the landlord, bought the Canbury Arms in 2005 and has been credited for getting the pub through hard economic times.
Mike's partner and marketing manager, Charlotte Salaman, 48, who joined Canterbury Arms as marketing manager, said: "This is not a job, it is a way of life. We do it 24/7, we go home and talk about it and we work on it all the time, but it's a love, it's heartfelt."
On their Facebook account, which has received 629 likes they have said "We'd be nowhere without all our customers so thank you all so very much", which was punctuated with a kiss.
This was in response to the messages of congratulations posted by punters, who also used Twitter to show their support for the business.