Every time one local man passes the RNLI lifeboat station in Teddington, he drops in with a fiver for the crew to stock up on biscuits. This has been going on for years, ever since volunteers came to his aid when he dislocated his hip while boarding a boat.
Lifeboat Operations Manager Matt Allchurch said it is always a welcome gesture. "He hobbles down to see us. He's very appreciative, and he's always so happy to see us. So, that's really rewarding," he said.
The man – one of so many well wishers the crew cannot quite remember his name – is just one of thousands of people the volunteer life-savers have helped over the past two decades.
This January marked 20 years since the RNLI set up four lifeboat stations on the Thames, and 20 years since the UK's busiest river became a whole lot safer.
The lifeboats at Teddington, Chiswick, Tower and Gravesend have launched over 16,000 times in the past two decades, with volunteers rescuing nearly 4500 people and saving 622 lives.
The tragic Marchioness Disaster of 1989, when 51 people died after a pleasure cruiser was hit by a dredger near Southwark, made it clear that an RNLI presence was needed on the Thames. By New Year's Day of 2002, the service was ready to launch, and it has been going strong ever since.
The Teddington station is the furthest up-river, covering Richmond, Kingston and Hampton Court, and has had around 1,400 shouts (incidents when the lifeboat was deployed) since opening.
A rapid introduction
The original crew at Teddington had an extremely short time to prepare to safeguard the Thames, beginning training six days a week in mid-November 2001 and completing their first shift on New Year's Eve of the same year.
One of the original crew members Jon Barker, 57, recalled the rush of that first night, during which there were three shouts in the space of a few hours.
He said: "It was chaos, as you can imagine. We were under-experienced. I remember thinking, 'crikey, this is real'."
Barker said the emotional experience of being on a shout, especially at the beginning, was completely unique. "Your adrenaline just goes through the roof. You're a bit scared because you're not quite sure what you can expect," he said.
Allchurch applauded the original team's dedication. "They started the station from nothing, no experience, and built it in a very short time," he said.
During his time at the station, Allchurch has experienced a huge variety of incidents. One of the standout moments was when a doctor's canoe capsized right by the weir during the winter, and he was saved just in time.
"He said he just had moments. He had lost all his strength through the cold of the water, and he had moments to live," Allchurch said.
The crew's primary goal is always to reach patients as soon as possible. Every crew member has to live within a three-minute radius of the station so they can aim to be out on the water within five minutes of an emergency being reported.
The quality of the RNLI's service is highly revered, with another original Teddington crew member Andy Bell, 57, wanting to join for years before the station opened.
He previously worked for the Navy in Devon, and remembers a time when a fishing boat ran aground and issued a Mayday. "We shot over there thinking that we were the only ones anywhere near, and at the same time as our boat got there, the Padstow lifeboat arrived [from Cornwall], and we were all thinking, 'how the hell did these guys get here so fast?'
"I didn't realise that they could react so quickly in the middle of the night. I thought it was brilliant, and that's why [I wanted to join]," he said.
A tough job
The majority of the Teddington crew's shouts are very different to this. Approximately 95 per cent of all the cases they attend are mental health-related. Although they are tough, Bell describes each one as an "eye-opener".
The station has officially saved 16 lives since opening, but the crew agree that, in reality, the number would be much higher if it included all the suicides they have helped prevent. Deputy Lifeboat Officer Gianna Saccomani said: "You can't quantify or qualify the impact [of the RNLI]."
It has a huge impact on the volunteers too.
"I have experienced so many incredible things that actually, sometimes, you feel like, 'oh, my life is so simple'.  Some people have huge issues to deal with in their lives, and often if the RNLI is called out on a shout to a distressed and vulnerable person on a bridge or near the water it is a cry for help… it does really make you realise how lucky you are," Saccomani said.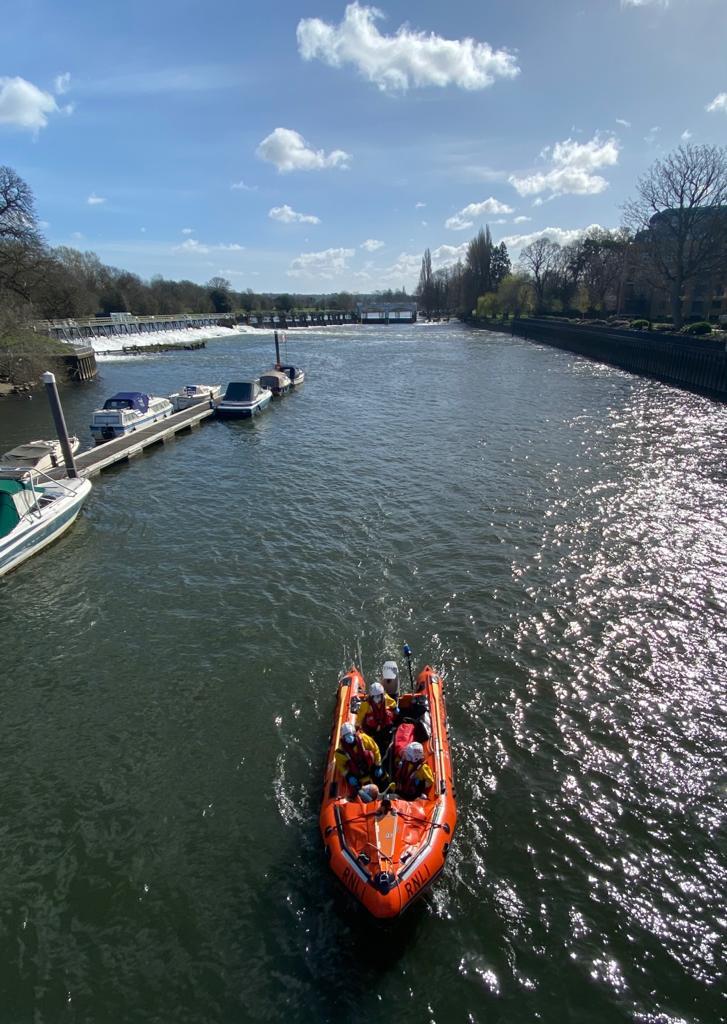 She said it could be "frustrating" when people – including locals – are unaware that the lifeboat station exists, but its profile was raised somewhat last year during what she calls the "weirdest" job the crew has ever dealt with.
In May 2021, a lost minke whale made its way down the Thames and got trapped by Teddington Lock. The lifeboat crew assisted in watching over the stranded juvenile for several hours while crowds of thousands gathered, and were there in its final moments when it got too distressed to survive. For Saccomani, it was an "incredibly emotional experience".
A lasting legacy
While other such unusual happenings might be few and far between, the volunteers often see things that can be traumatic, but they lean on one another. Barker said: "[The crew all] like going out and saving people. If I was going to have a group of friends, that would be the way I qualify them.
"The community and the people are absolutely fantastic because we're all sort of like-minded. And actually, that makes the trauma easier in a way because everybody looks after each other and supports each other because we all know that it's pretty tough."
After 20 years with the service, he has no plans to leave. He said: "It's 90 per cent fun. Joy. Like going to the pub, talking to my mates, having a laugh. It really is 90 per cent of that and then, okay, there might be a small percentage of it where we're actually seriously helping people but the rest of it's just really fun because who doesn't like learning a new skill?"
Teddington lifeboat station has recently recruited a number of new volunteers, and will continue to keep us safe on the Thames for many years to come.
If you are in trouble on or near the Thames or see someone else who is, call 999 and ask for the coastguard.