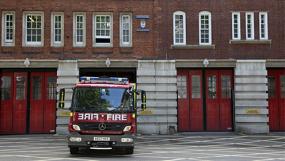 Firefighters yesterday took part in the second day of the Fire Brigades Union strike which began last week. 
FBU members walked out between 6am and 8am in protest over a dispute with their employers over the raising of the pension age from 55 to 60, which the union said is unrealistic.
This followed a four-hour strike on Friday evening.
Paul Neale, the FBU Kingston and Richmond Borough Secretary, said the strikes had received "one hundred per cent support from the public" and that firefighters had been inundated with calls of support.
Matt Wrack, the FBU general secretary, said in a press release that the strike on Friday was "solid around the country, and there was a huge amount of sympathy on show."
Mr Neale called Fire Minister Brandon Lewis' withdrawal of his recent pensions concession to the Union "disgusting", claiming that it was just another example of the government's "despicable" treatment of public sector workers.
Mr Neale said: "We didn't want to do this, but he's driven us to do this with his threats of more cuts.
"Why should MPs have gold-plated pensions and excessive expenses?
"They are completely detached from us and couldn't care less."
Mr Lewis had said in a statement: "Talks were progressing encouragingly and in good faith so for the FBU to walk away after only four days of negotiation is completely baffling."
Image courtesy of Jeff Blacker/Rex Features