Arthur Miller's A View From The Bridge, directed by Holly Race Roughan, debuted at the Rose Theatre to a standing ovation.
Roughan has managed to make this piece fit today's cultural climate, with the themes of misguided hyper-masculinity and immigration feeling as relevant today as they did during its original run in London in October 1965.
Miller's work is influenced by Greek theatre, bringing together themes of pride, love, loss, and fraught relationships. Miller melds this with humanity as his work is not the stories of great epics but of people and experience.
In A View From The Bridge, the inspiration is taken from the longshoremen of New York City. Miller would frequently walk across the Brooklyn Bridge and look down upon the enclave of Red Hook.
Here, Miller would hear the story of a man who called the Immigration Bureau on two illegal immigrants living in his home, to prevent one of them from marrying his niece.
Eddie (Jonathan Slinger) and Beatrice (Kirsty Bushell), a husband and wife, live with their niece Catherine (Rachelle Diedericks).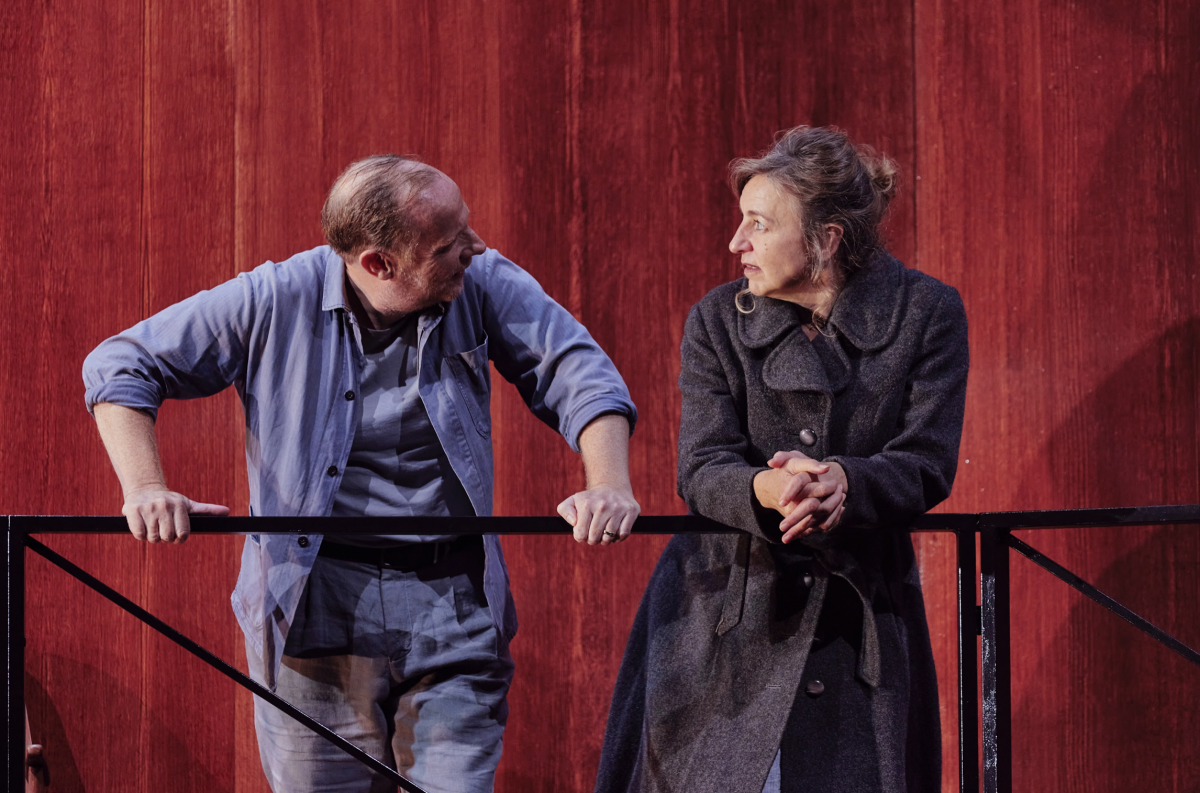 They do not have much, but they work hard for the American dream. They live in the neighbourhood of Red Hook, Brooklyn, a community created on the shoreline, where people work hard, pull together, and protect one another.
Tensions rise when the family take in Beatrice's relations, two Sicilian immigrants, Marco (Tommy Sim'aan) and Rodolpho (Luke Newberry).
A spark between Catherine and Rodolpho is enough to ignite a flame that threatens to burn Eddie's world down.
Roughan's piece balances the chaos of the characters moral ambiguity with minimalist yet powerful staging.
The staging is simple yet effective, allowing the audience to be enthralled entirely with the performances throughout the entire piece.
The world within which this story takes place is depicted with just thin black chairs, and a swing in the corner of the stage. The 'Red Hook' neon signage burns against the otherwise black background.
As I watched, I thought back to the first time I encountered A View From The Bridge when I was much younger.
As someone who was once a teenager finding, and fighting for, my independence, Catherine's character was one that resonated with me. 
Diederick's portrayal is everything the character should embody, she is innocent, bright-eyed, optimistic to a fault, and more than a little naive.
I also recalled how much I hated Eddie Carpone. I simply had no sympathy for his plight.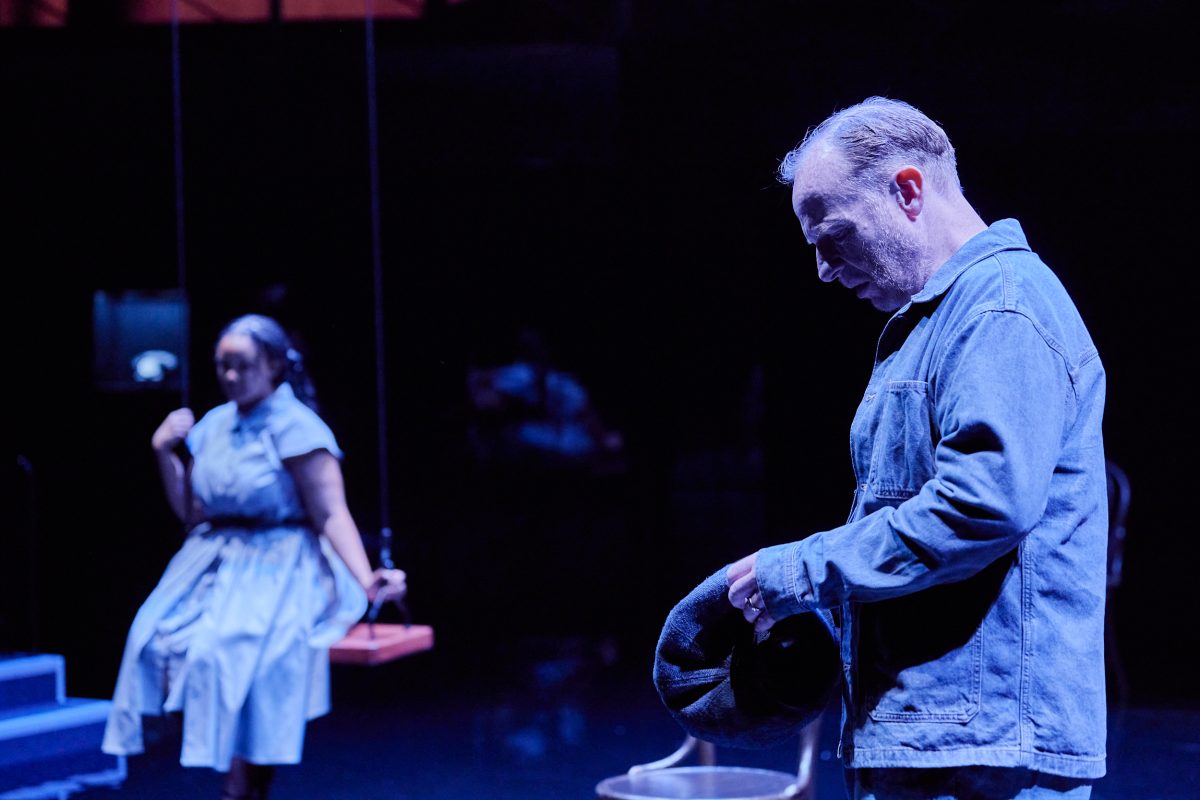 Yet watching Jonathan Slinger's portrayal of Eddie elicits a very different reaction in this adaption. His waning masculinity, his reluctance to the changes happening around him, and his growing isolation from the ones he loves garners sympathy from the audience, and eventually, perhaps begrudgingly, myself.
Alfieri, played by Nancy Crane, is the lawyer and confidant of Eddie Carpone and is played here by a woman for the first time in the play's history.
Nancy Crane takes on the role of a one-woman Greek chorus, narrating and commenting on the action.
This, I think, is a fundamental shift in how we see Eddie.
In previous depictions, Eddie would go to his lawyer Alfieri, and they would discuss women, Eddie's infatuation with his niece and his despair at her choices to marry Rodolpho. Eddie would scheme to send Rodolpho away. It always had an air of bravado with two men on the stage.
Whereas in this adaption, rather than it feeling like Eddie is scheming, a female Alfieri makes it feel like Eddie is pleading, like a boy running to his mother for help.
Crane manages to portray a character in the centre of the conflict, overseeing the chaos, as a reluctant referee between Eddie's desires. A desire for Catherine to never change and never leave, and a desire for Catherine to have better than Eddie was ever able to provide by leaving Red Hook and not marrying a longshoreman.
Alfieri proposes the question throughout the play, is it better to settle for half?
Catherine's coming of age, and her relationship with Rodolpho confront Eddie with what he does not have. Time.
Time has passed, and as it has, it has taken his ability to do the hard work, it has taken his virility, it has taken his optimism, and it has taken his opportunities. The life Eddie finds himself in, is the life he will now never leave, it will never change for him.
Catherine can change and his dilemma is wanting change for Catherine while wanting everything to stay the same for himself.
Whilst Catherine is a child, he has someone who needs him, and someone he has to provide for. His wife expects things of him he can no longer provide, and as such this reminds him of what he cannot offer.
Rodolpho is the catalyst. He wants to show her the world past Red Hook, he would take her away.
Rodolpho insists on living without limitations of circumstance, and Eddie accepts the fate he was given at birth.
In the final scene, we see Eddie lying dead on the floor having imploded his own world.
Alfieri comes to the stage to pose the question one more time – is it better to settle for half?
For every iteration of this play, more meaning can be found, and new questions can be asked. Within this piece, I felt like I was watching the material for the first time.
As the cast took to the stage at the end of the first night's performance, the crowd rose and cheered the adaptation, and it could not have been more deserved.
A View From The Bridge is on at the Rose Theatre until Saturday November 11.