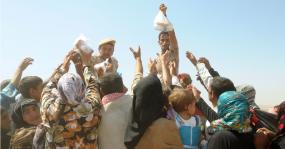 Kingston Muslim Association raised £115k for victims of the ongoing Syrian conflict at a charity banquet in Surbiton on Sunday.
All the proceeds will be donated to Muslim Aid's Syria Emergency Appeal, which is looking to help the estimated 6.5 million Syrians who have been displaced from their homes.
On Monday, the United Nations appealed for £4billion in humanitarian aid for Syria, estimating that almost three quarters of Syria's 22.4 million population will need aid in 2014.
Hafsah Adham, from Pearl Network Events, who were responsible for running the event, said: "The money will go towards the welfare and needs of internally displaced persons (IDPs).
"It will specifically pay for nappies, milk supplements and food for babies, women and children."
The night's proceeds will be used to provide aid to both Muslims and non Muslims. Muslim Aid state on their website: "We work to help all of humanity, regardless of race, religion or gender.
"We are signatories to the Code of Conduct for the International Red Cross and Red Crescent Movement which sets out non-discriminatory guidelines."
Given Kingston's multicultural standing, it appears likely that some locals may have been affected by the ongoing war in Syria.
Javed Rafiq, Chairman of Kingston Muslim Association, said: "There are a number of people from Syria who come to our mosque. As with any ethnic minority, some of them will have relatives back home."
The event itself featured a three course Lebanese buffet, a Syria-related theatre production and an auction for a Chelsea jersey, signed by the whole team, which star striker, Demba Ba, helped to provide.
Image courtesy of Rex Features