The first thing one notices about the New Forest is the lack of noise. We visited on a Saturday afternoon and although we are only a few hours from the chaos and bustle of London, but we've seen very few other people. The weather is nice, sunny and mild, but no one who lives here is outdoors and we've driven many miles without passing another vehicle. The pub we chose to have lunch in is occupied by about ten other people. It is almost as though there are more horses here than humans, and no one is complaining about that.
New Forest is a place for freedom from the confinement of the city, somewhere you will want to go when you need to stretch your arms in open air without accidentally hitting someone, or have a look around and wish to not see a skyscraping building in your view. There are no constant buses, no high streets, and no McDonald's. There are only trees, open, barren land and delicately rolling hills that allow you to see for miles beyond. It's serene, and there's something quite peaceful about the simple sight of the New Forest ponies grazing without a single care or restriction.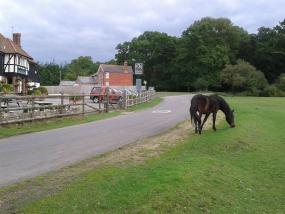 The area located in present-day Hampshire was originally designated a "royal forest" in 1079 by William the Conqueror to prevent peasants from using the land in favour of protecting the monarch's hunt. These laws were eventually repealed and "common rights" returned to local residents, many of which are still in place today. They are not attached to an individual, rather to the land or property.
The people who inhabit this land and exercise these rights are known as "practising commoners". The rights are enforced by Verderers who assist the commoners in the management of the animals. Over 7,000 livestock roam the land freely, mostly horses but some cattle, mules and donkeys. Pigs are allowed loose during autumn to forage for beech mast and green acorns.
Visitors are welcome at all times of year and activities and events run throughout. A simple walk, drive, or cycling trip through New Forest is satisying enough, but there are also golf courses, places of historical interest, B&Bs and places to enjoy a fine meal and drink.
The Burley-Villa School of Riding offers horseback riding adventures for horse-enthusiasts of all ages and riding abilities. Forest Leisure Cycling offers the same for those who would prefer to have their adventures on a cycle instead. For the golfers, Bramshaw Golf Club offers two lovely courses in the heart of New Forest. Bring the children (and the family dog) to the New Forest Centre for a variety of events and activities including the New Forest Museum and Gallery, full of exhibitions and displays to teach your whole family about the treasures to be found here.
Though this trip could be satisfied in just one day, there's a lot to do if you're looking for an extended break, and plenty of accommodation, from charming old farmhouses to cosy bed and breakfasts. Petherton Cottage on the edge of the New Forest National Park is both family- and pet-friendly. Forest Edge Holiday Park hosts both camping grounds and holiday homes with easy access to the New Forest area.
For those with more expensive taste, the Watersplash Hotel offers a luxurious stay in a country house atmosphere including a massage therapist on-hand and an unusual tea garden. Families and pets are welcome.
Pubs and restaurants catering to New Forest visitors exist all over the general area. The Bell Inn, Candlesticks Inn, and the Drift Inn all welcome children and have access for people with disabilities.
Getting to New Forest is easy. It is just a 90-minute train ride from London Waterloo with stations via Weymouth at Ashurst, Beaulieu Road, Brockenhurst and Sway. Buses run to New Forest via Salisbury, Bournemouth and Southampton. Open-top bus tours through New Forest operate in the summer. Driving is possible but discouraged because the roads can be very narrow and you must remember the animals have the right of way and will often step into the roads.
Most people come to New Forest to see the ponies. Though we experienced wonderful food, friendly people and the beautful landscape, the ponies were the highlight of our trip and continue to be New Forest's main attraction. As we drove through the more open areas of land, we were quite amused by the sight of an ice cream truck parked near the side of the road with a pony peering inside the window, probably hoping the driver would be sympathetic enough to offer a bit of ice cream.
It is not safe to feed the ponies human food, but this particular pony seemed determined, and very patient. Another word of warning that applies to any horse, not just the New Forest ponies: never walk up from behind them in case they become scared and decide to kick, it will hurt! Only the most domesticated of the ponies will venture toward you and let you pet them. Most will let you close but move away if you get a bit too close.
But, just seeing them in their natural environment grazing, trotting and interacting with each other is a fine experience for people of all ages and provides an escape from city life that only feels like a different world.