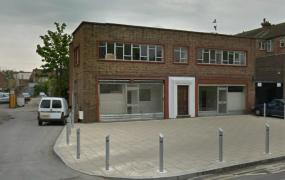 The words, "F*** off c****", appeared on the door of the proposed site for a new mosque in Worcester Park at the weekend.
The old Bank Chambers building in Green Lane was vandalised for the second time since initial plans to use the site as a mosque became public.
Prospective Conservative Councillor for Sutton, Simon Densley, said on his website: "Writing obscenities on the building like this is just [an] offensive hate crime and is totally unacceptable."
The building was also subject to Islamophobic graffiti in June, with the words: "F*** off Muslim c****" appearing on that occasion.
Proposals to turn the building into a mosque have been rejected twice by Sutton Council, who were concerned about traffic congestion, while nearly 4,000 people signed a petition against the plans.
The council's decision has been appealed by Mr H Aziz and an enquiry will be held on April 8, 2014.
Mr Densley added: "This [the formal council process] of course is the right way to go about objecting to this planning application."
The next deadline in the current process is December 19, when comments from interested parties and statements of case must be submitted.
Javed Rafiq, the Chairman of Kingston Muslim Association, declined to comment on the matter.
Image courtesy of Google Street View