Under represented Londoners have been urged to bring ID with them when voting, as data has shown that the majority are unaware about a new change in the law.
Shoutout UK and Greater London Authority (GLA) have joined together with a diverse range of civil society organisations, education institutions and London borough electoral services to help under-represented and under-registered Londoners access their right to vote as the new Voter ID regime is being rolled out across the UK.
The #NoVoteNoVoice campaign is a response to the UK government requiring voters to show photo ID at the local elections and referendum polling stations from Thursday 4 May.
Matteo Bergamini, CEO and founder of Shoutout UK, said: "The campaign, which launched in January, is about political literacy. It's about understanding the Elections Act and understanding what changes are coming up and what you need to do if anything."
Data which was first released from (GLA) after polling between July-August 2022 found only 30% of Black Londoners know about the new requirement to show photo ID in order to vote and only 29% of European Union Londoners are aware of the change.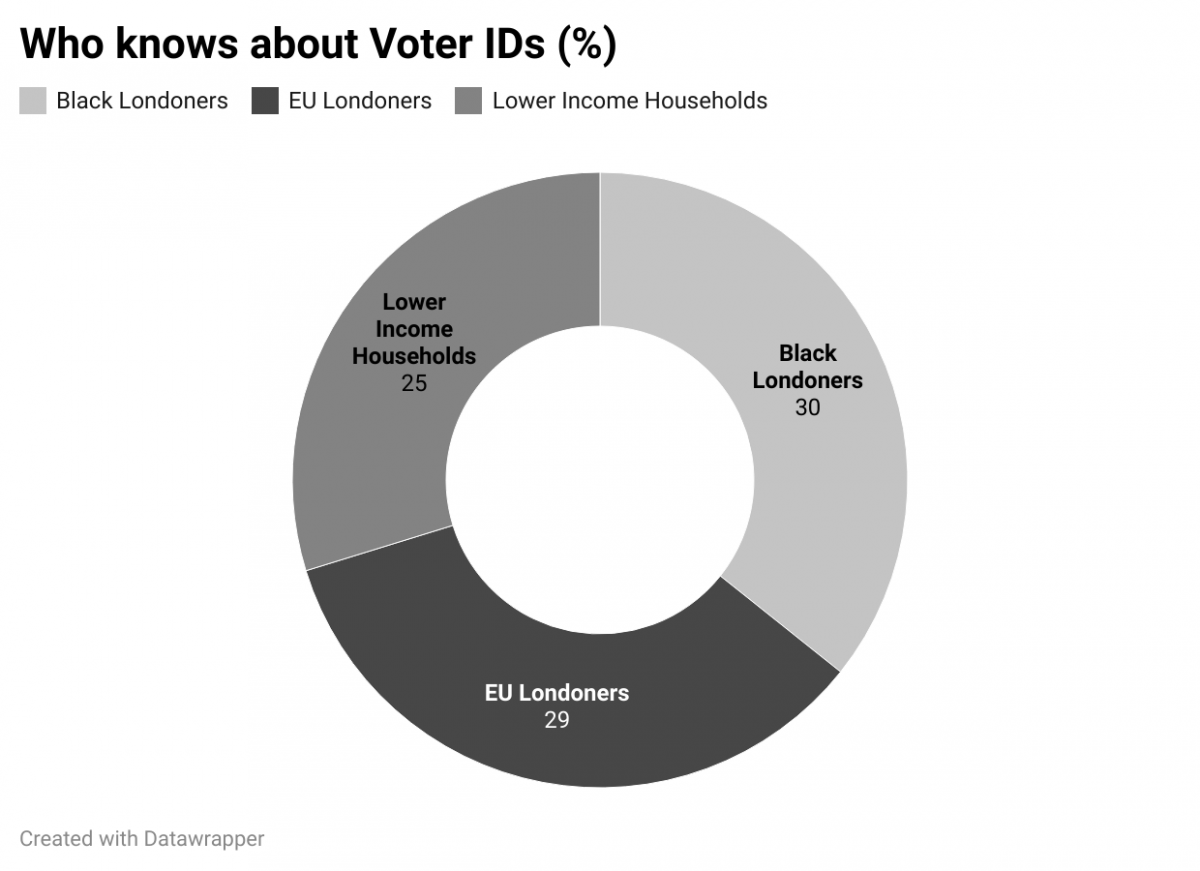 Further polling commissioned by the GLA and carried out by YouGov also shows that over 60% of Londoners are not aware of the forthcoming photo ID requirement.
Londoners on lower household incomes are less likely to be aware with 38 per cent ABC1 (typically middle-class) knowing about the Voter ID requirement compared to 25 per cent of C2DE (typically working-class) Londoners.
Polling also revealed one in 10 Londoners do not hold a form of approved photo voter ID specified in the Elections Act and almost one in five Londoners under 25 say they do not hold an approved ID (19 per cent).
Bergamini said there are a number of reasons why numbers may be low, including the fact that these groups, for example Black and EU Residents are historically marginalised communities and targeted less by government institutions.
He said general political literacy levels also tend to be lower amongst these demographics compounded by the fact that most schools don't offer any form of political literacy education.
There is also a higher level of distrust towards government messaging, leaving these groups less likely to engage he added.
This links with recent findings that the Metropolitan police has been found "institutionally" racist, misogynistic and homophobic.
A 363-Page report by Baroness Louise Casey, commissioned by the Met following the abduction of Sarah Everard in March 2021, detailing instances of sexual assault which were covered up and downplayed.
It also stated that 12% of women in the Met confirmed they had been harassed or attacked at work and one third experienced sexism.
Casey said only half of the public expressed confidence in the police system before the revelations about the force's recent scandals.
Sadie Khan, Mayor of London, has subsequently announced a £1 Million training plan to 'build trust' among Black and minority Londoners.
Officials say the scheme "puts Black communities in London – who have some of the lowest levels of trust in the police – at the centre of improving how the next generation of police officers go about their vital work of bearing down on crime in London's diverse communities".
"For society to attempt to fit everybody and for a democratic society to be the best it can be for every single demographic and for political parties to take a voice of those demographics and to make policies around those demographics, we need representation from absolutely everybody," said Bergamini.
"Issues only really get dealt with if there are people in your community or your area that are either on the ballot box or voting. Otherwise change doesn't happen."
The #NoVoteNoVoice campaign has designed materials for under-represented communities who will be disproportionately impacted by these election changes. Materials are online and information activity will take place in the office.
The #NoVoteNoVoice Campaign details the types of acceptable photo ID and how to apply for a Voter Authority Certificate on their website.
"There are so many things you can opt out on in life except politics. You may not want to talk about it, or know about it but, the only choice we have as citizens on this country is whether our opinion matters or not," SAID Bergamini.
"Are we going to be in the conversation or are we going to let the conversation carry on about us but not be involved in the final decision?"