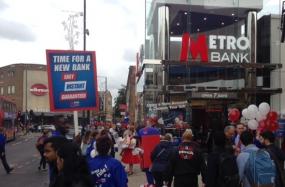 Kingston's first Metro Bank has opened on Clarence Street, after spending £2.5 million developing the branch.
Metro Bank, who describe themselves as customer focused, aimed to open a thousand accounts over the weekend.
Regional director, Kevin Walker, wants the bank to be the "John Lewis of the banking sector", with customer service being high priority. As well as long opening hours, branches offer biscuits for dogs and lollipops for children.
He said: "We consider ourselves a community bank, opening up where there are vibrant communities and Kingston is a very obvious choice.
"It's not about being another me-too bank, it's about actually offering a viable alternative. The fact we are open seven days a week, people like that. It's about being open for the customer rather than dictating terms to them."
Metro Bank has seen a solid rise in customers over the last year, growing 75 per cent since the start of the year to 238,000. Deposits are also on the rise, 24 per cent in the last three months alone, up to £1.1 billion.
However, Kingston will be it's 21st branch, which is still a long way shy of rival high street banks.
Rebecca Cox and Oliver Davis, a family who live in the area, said they were planning to switch to Metro due to the 24 hour call service and the branch being open seven days a week.
Ms Cox said: "They are just really nice and helpful. We are going to go back and open [accounts] for all three of us.
"It will be nice to get one set up for my little one – a nice little savings account for her."