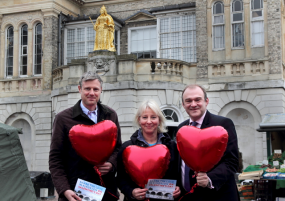 Volunteers are gearing up for Kingston's biggest day of fundraising on February 14 with over 23 events taking place.
Love Kingston Day will feature appeals throughout the area to raise money primarily for five local causes, with a target of £100,000.
Elaine Miller, Fundraising Manager for Love Kingston, said: "We love Kingston, it's a great place to live and work. With our busy schedules it is easy to forget those who live on the margins.
"We want to make a difference and have fun, fundraising to support the vital work of our local groups."
Events will include dinner with a twist, quiz and comedy nights, coffee mornings, and a speed dating style event to match willing volunteers with organisations.
Half of all donations will go to the Kingston Legacy Fund – with 50 per cent match funding from the Community First Match Funding Scheme – to create a lasting legacy to help local charity and community projects in the borough.
The other half will go directly to five local projects deemed as "pathways out of poverty".
These are Oxygen, Kingston Churches Action On Homelessness, Kingston Food Bank, Hestia, and Kingston Savers, which together aim to help thousands of local residents including abused women, troubled teenagers and those without food or a bed.
Ros Morgan, Chief Executive of Kingstonfirst, a big supporter of the project, said: "I have never worked in a town with so many people and businesses willing to volunteer their time to support their community."
Image courtesy of Love Kingston