Lewis Hamilton is a name recognised in almost every household, and with his equalling of Michael Schumacher's record of most drivers' championships (seven), his status is to be cemented in history.
Dubbed one of the greatest – if not the greatest – driver in history, how did Hamilton get to where he is?
His driving career began at the age of eight. By the age of 10, he won the British Kart Championship and three years later, in 1998, he was signed to the McLaren and Mercedes-Benz Young Driver Support Programme, the youngest driver to have been contacted by an F1 team.
With the guidance of McLaren, Hamilton won a number of karting titles before switching to cars in 2001 in the British Formula Renault Winter Series.
In 2002 he did a full season in Formula Renault with Manor Motorsport and came in third.
Former Manor team boss John Booth said: "He'd never driven a car before, not even a road car – and he crashed our Renault after three laps. But the boys put it back together again, and he went back out and went very quickly. It hadn't fazed him in the slightest."
He remained with Manor Motorsport and did another season in Formula Renault in 2003, when he also made his first appearance in F3.
However, it took until the following year for him to return to F3 properly, in the Euroseries rather than the British Championship.
In 2006 he joined GP2, which is now known as Formula 2, and won the championship. The following year, Hamilton made his F1 debut at the Australian Grand Prix, where he finished third. In 2008, he became the first black driver to win the F1 World Drivers' Championship, the start of his equalising of Schumacher's record. To date, he remains the only black driver in F1.
He said of the win: "I'm very emotional, I've cried. My heart is feeling so much strain right now…I'm just very proud of the team."
From there, he won a further six drivers' championships – 2014, 2015, 2017, 2018, 2019 and 2020.
Hamilton's success
In 2013 Hamilton signed a contract with Mercedes and has raced for them since. Mercedes is known as the best car on the grid, and while it is difficult to know for sure, would he be as successful in a less dominant car?
It is the age-old question for F1 fans – is it the man or the car? Put simply, the question cannot be answered.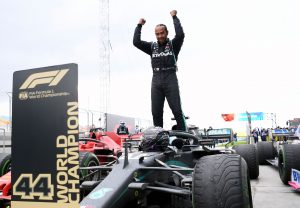 Hamilton currently holds the record for most Grand Prix race wins – 94. This spans the length of his career, but with Mercedes alone, he has won 73 of the 94. Unsurprisingly, he also holds the record for most podium finishes – 163.
Along with his record-breaking number of wins, he is consistent in qualifying, taking 97 pole positions, which is of course advantageous to his record for most race wins.
Finishing in the top 10 gives drivers points. Yet again, Hamilton also holds this record with 227 finishes in the top 10. First place holds 25 points, while tenth place holds just one.
Hamilton has a record 3738 points, and also holds the most points in a season with 413, in 2019. He also holds second, sixth, seventh, eighth and ninth of this top ten list.
Success outside of F1
With such a successful career, it is unsurprising that he has also been successful in other aspects of his life.
Lewis Hamilton was awarded an MBE by the Queen in 2008.
He also won the BBC Sports Personality of the Year in 2014. He said when receiving the award: "I am so speechless…I am so proud and honoured to be among such great British sporting talent. I couldn't have done it without my amazing team."
Social justice is something that Hamilton appears to care deeply about. Following the murder of George Floyd, Hamilton spoke out and condemned F1 figures for remaining silent on the injustice in America and around the world.
Writing on Instagram he said: "The way minorities are treated has to change, how you educate those in your country of equality, racism, classism and that we are all born the same! We are not born with racism and hate in our hearts, it is taught by those we look up to."
In January 2020 he pledged £383,000 to a variety of causes to tackle bushfires in Australia.
As well as this, he has had voice-over appearances in Cars 2 and 3 and has launched a clothing line. He has also launched a vegan restaurant called Neat Burger.
Will his success continue, and will he beat Schumacher's record next year? We will have to wait and see.