More than 250 students from 24 different universities across the UK gathered in Watford for the Krishna Consciousness Society (KCSOC) biannual retreat.
The event was held at Bhaktivedanta Manor, the UK home of the Hare Krishna movement which was donated to the movement in February 1973 by former Beatles' guitarist George Harrison.
Dozens of members of the KCSOC of Kingston University travelled to the retreat to meet spiritual societies from universities such as University of Birmingham, University of Manchester and University of Cambridge.
Activities included painting, yoga classes, meditation training and team building activities. There were opportunities to pick up some Vedic wisdom and tune in with your spirituality along with fellow spiritual seekers.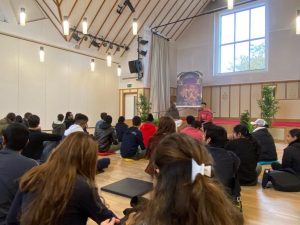 Bhaktivedanta Manor, set in the Hertfordshire countryside, comprises 17 acres of land and 46 cows and oxen. It was donated by Harrison to cater for the growing congregation.
During Harrison's lifetime, he kept a close relationship with A.C. Bhaktivedanta Swami Prabhupada and embraced the Hare Krishna tradition. Swami was an Indian religious leader and author who in 1965 founded the International Society for Krishna Consciousness, commonly known as the Hare Krishna movement.
Citi-Sakti Devi Dasi, a disciple of Swami and practitioner of the Krishna Movement for more than 25 years, opened the event. She graduated from Imperial College as a doctor, specialising as a consultant psychiatrist. She regularly broadcasts for BBC Radio on mental health, wellbeing and spirituality. She said: "Humans all crave emotional experience next to intellectual challenges. A multi-sensational day like this one of these experiences."
Chirag ghelani, alias The Lotus Coach, was a solicitor for 12 years before becoming a life coach and public speaker. He said: "Happiness comes from the inside. KCSOC helps you to focus on the positive elements of life, instigating the conversation between your body and mind."
The manor is home to 40 brahmacharis and 20 brahmacharinis, male and female devotees who pursue the sacred Vedic knowledge – one of the oldest texts of Hinduism. They barely have contact with each other, but students had the opportunity to talk to them.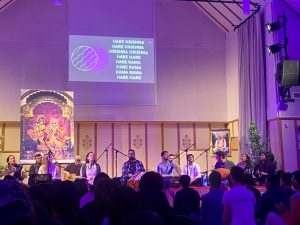 The day ended with students dancing, clapping and chanting to the vibration of mridangams, a percussive instrument. Held in a congregational setting, the Kirtan is an event to praise and glorify the three most important Hindu deities, also known as the Mahā-mantra or the Great Mantra.
By repeating a mantra meditation of three words (Hare, Krishna, Rama), mental focus is reinforced and anxiety or depressive thought patterns are relieved. Kaley, a performer and one of the monks at the manor, said: "We wake up and take a shower to clean our bodies. But we never take the time to declutter the mind. Sound vibration is pivotal to producing rhythm and increasing awareness and consciousness."
Second year sociology student Saxon Worboys, a member of KCSOC, said: "It was fun. Nothing was forced upon us, but I am a bit tired now. It was quite overwhelming."