Kingston Council is working with an artificial intelligence (AI) company to monitor what people and vehicles do when they enter the town centre.
The project, run jointly with Sutton Council, will track the real-time movement of people through the town, and is partly to ensure pedestrians and other road users are able to practise social distancing.
Corporate head of digital strategy and portfolio at Kingston Council David Grasty said: "When the first [Covid] wave happened there were a lot of things done to widen pavements so that people wouldn't have to crowd in on each other.
"We took lanes out of the road based on where we thought there might be problems, but there was no evidence or real data to do that."
The technology is provided by a London based AI transport company called Vivacity Labs which has carried out similar work for other towns and Transport For London (TFL).
The AI works by using sensors in particular areas to monitor footfall and patterns of movement.
With non-essential shops due to reopen on April 12, it is a challenge for councils to predict how people will behave in terms of going out and which modes of transport will be favoured.
CEO of Vivacity Labs Mark Nicholson said: "The only way that you can try and get an insight into what's going to happen is to at least understand the situation today otherwise you don't have any chance at all."
The sensors have been installed throughout Kingston town centre and on the Riverside and will go live on April 6.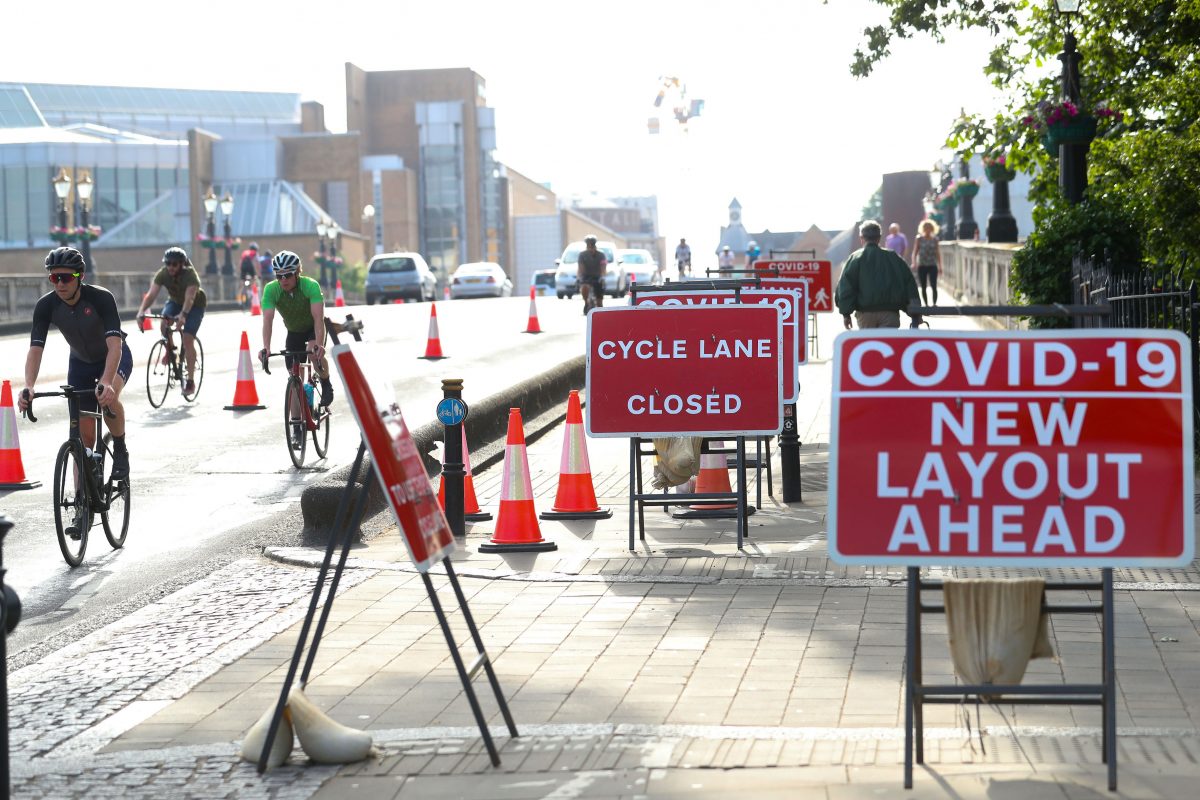 Privacy
In the past, collecting data about
road usage involved people going out on the road with clipboards, using a
rubber grip or setting up a video camera on a pavement.
The new technology aims to
produce quicker and more accurate data but with sensors tracking everybody's
movements, there could be privacy concerns.
Grasty said: "We own the data.
Privacy has been designed into this project from the very beginning. It's not a
CCTV camera.
"No pictures leave the sensors as
a matter of course. The sensors process what they see within themselves but
only send summary information every five minutes."
He added: "There's no hidden agenda behind this project. What this project
is doing is providing data, and that data will be useful in all sorts of policy
issues and it will be useful in debates when a policy is being consulted
upon."
Nicholson
also emphasised that it is not a spying tool.
He said: "All that we keep
is something anonymous that tells us one car has gone past or one cyclist has
gone past – there is no privacy invasion."
Active
Travel
Cycling
and walking, also referred to as "active travel", have increased during the
pandemic.
Nicholson said: "[Kingston
Council] are looking to understand the current utilisation of pedestrians and
cyclists across the network and will try to see how that is changing as
restrictions ease and what can they do to improve that situation.
"Lots of different local authorities are trying to promote more cycling and
walking to try to alleviate a future congestion challenge."
Do
people in Kingston want more infrastructure that will encourage active
travel?
A poll conducted by the Kingston
Courier, in a Kingston Facebook group, showed the most popular transport change
people would like to see is that of fewer cycle lanes.
Chart: Sharmeen Ziauddin
Despite the anti-cyclist sentiment, move
towards sustainability and active travel is something councils, especially in
London, want to encourage.
Nicholson said: "Given the pandemic, what have been
some of the changes that have happened in cycling and walking and how can
[councils] help promote them more?"
The
data gathered from the sensors will help the council make policy decisions like
installing a new cycle lane or zebra crossing and then use it to monitor the
impact of those changes.
The technology can calculate how long it takes for a car or cyclist to get
from Penrhyn Road to Kingston Bridge for example, and can also distinguish
between nine types of vehicles including cyclists and mopeds.
The sensors can also detect how close pedestrians walk to each other and
whether they are able to stay Covid-safe.
Grasty said: "We don't know what the 'new normal' will be and having evidence-based
rather than guessing is going to help us.
"It's all about giving us data to
be able to make Kingston safer in terms of the Covid perspective but
longer-term it's got many more implications for us in making sure that Kingston
is a vibrant place and helping the growth and recovery of the town
centre."
The funding for the initiative
comes from The South London Partnership and the Mayor of London and will last
for at least two years.
Latest posts by Sharmeen Ziauddin
(see all)