Whereas a student's November calendar-page used to remain fairly unmarked by any special occasions, over recent years, it has gradually been filled, by the Movember campaign. Movember is an annual event run to raise awareness of men's health issues such as their mental health, suicide, prostate and testicular cancer. Participants grow moustaches and/or run fundraising events to campaign for donations.
The campaign aims to:
Reduce the number of male suicides by 25 per cent by 2030.
Halve the number of men dying from prostate cancer by 2030.
Halve the number of men dying from testicular cancer by 2030.
This year, Kingston University students have been working to raise £5,000 for the campaign.
A range of KU sports clubs, societies and individuals have been involved. KU's Movember Ambassador Guy Salzedo, 23, praised the breadth of involvement this year.
"Yes, it's focused and centred around men's mental health, but the more of a variety of people who get involved, the more we are achieving exactly what we want. And that is awareness," he said.
These are some of the chilling facts that Salzedo hoped to raise the profile of:
A man dies of suicide every 60 seconds in the UK.
Four million men are diagnosed with prostate cancer every year.
Testicular cancer is the most diagnosed cancer in the UK.
With a particular focus on men's mental health, the KU Movember campaign has aimed to recalibrate the image of being a man.
"We want men to reach out and support one another. We want men to be men of more words. Our aim is to stop every dad, every brother and every son from dying too young," the KU Movember website read.
Typically, Movember has involved growing a moustache. At KU, women, and all those challenged in the moustache growing field, have adapted and instead dyed moustache shapes into their hair, worn fake moustaches to lectures or participated in Movember events.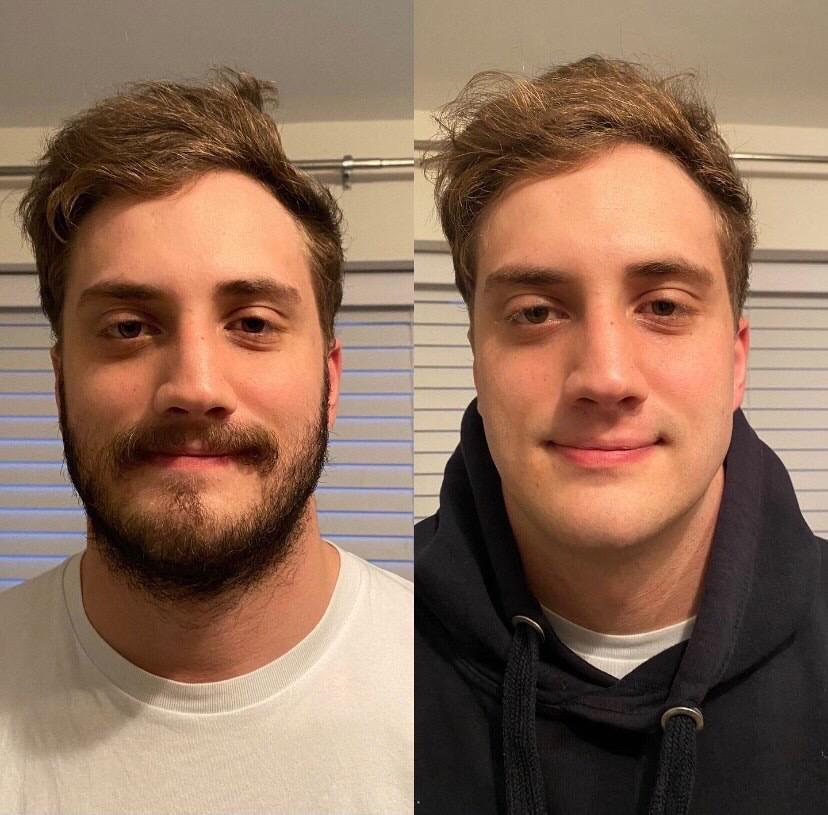 A personal reason for the rugby team
For the KU men's rugby team, which Salzedo also captains, the events of this year have brought the movement closer than ever before to the hearts of the team.
A member of KU men's rugby took his life this year, and the tragic incident has transformed the meaning of the Movember campaign for the rest of the team.
"In first and second year, we just used to do Movember because it was a great cause, but now we have a personal attachment. It has made a lot of people realise that it is real," Salzedo said.
Impact of the pandemic
As with many things this year, the Movember movement has been influenced by the pandemic. The Movember Foundation conducted a survey which highlighted the stigma attached to starting, or participating in, conversations with men about mental health.
The survey found that while 83 per cent of British men found it helpful when someone asked if they were having a hard time, nearly half (43 per cent) said no one had checked in on them to see how they were coping during the pandemic.
From influence to impact, the pandemic has also made the campaign more logistically challenging. But KU students have adapted.
Instead of holding sports tournaments, students have been participating in the Move for Movember – an initiative to run or walk 60 kilometres in a month for the men who die every 60 seconds in the UK. And instead of holding in-person events, students have gone online, organising fundraising events like virtual pub quizzes.
Importance beyond November
Men's mental health does not stop being important after November 30.
Salzedo said he wanted the principles of Movember – raising awareness, opening up conversations, washing away stigma – to have longevity beyond the annual event.
"The ethos in the rugby club has now completely changed. It's about being there for each other, talking, opening up, letting freshers know when they come that if they have an issue or a problem, they can talk about it," he said.
"We need to get to point where you can come and say, 'I don't feel okay' and know that it's going to be received with 'talk to me'. That's something I'd like to achieve."
KU Movember has raised £3,006 so far, and donations stay open until December 8. The link to donate is here: https://uk.movember.com/donate