Lecturers at Kingston University joined the biggest ever strike in Higher Eduction history, as claimed by the University College Union (UCU) on November 24.
Kingston's strikers joined 70,000 university staff from 150 universities across the UK protesting against low pay and working conditions as part of UCU.
The UCU strikers are battling four fronts on casualisation, heavy workloads, wage inequality and pay cuts. The union is campaigning for a meaningful pay rise to adapt to the cost-of living crisis, in addition to ending insecure zero-hour contracts and workloads they say are dangerously high.
UCU members gathered on picket lines outside university entrances on Penrhyn Road and Knights Park campus. The picket line featured music and dancing, making placards, as well as leafletting and canvassing by the strikers.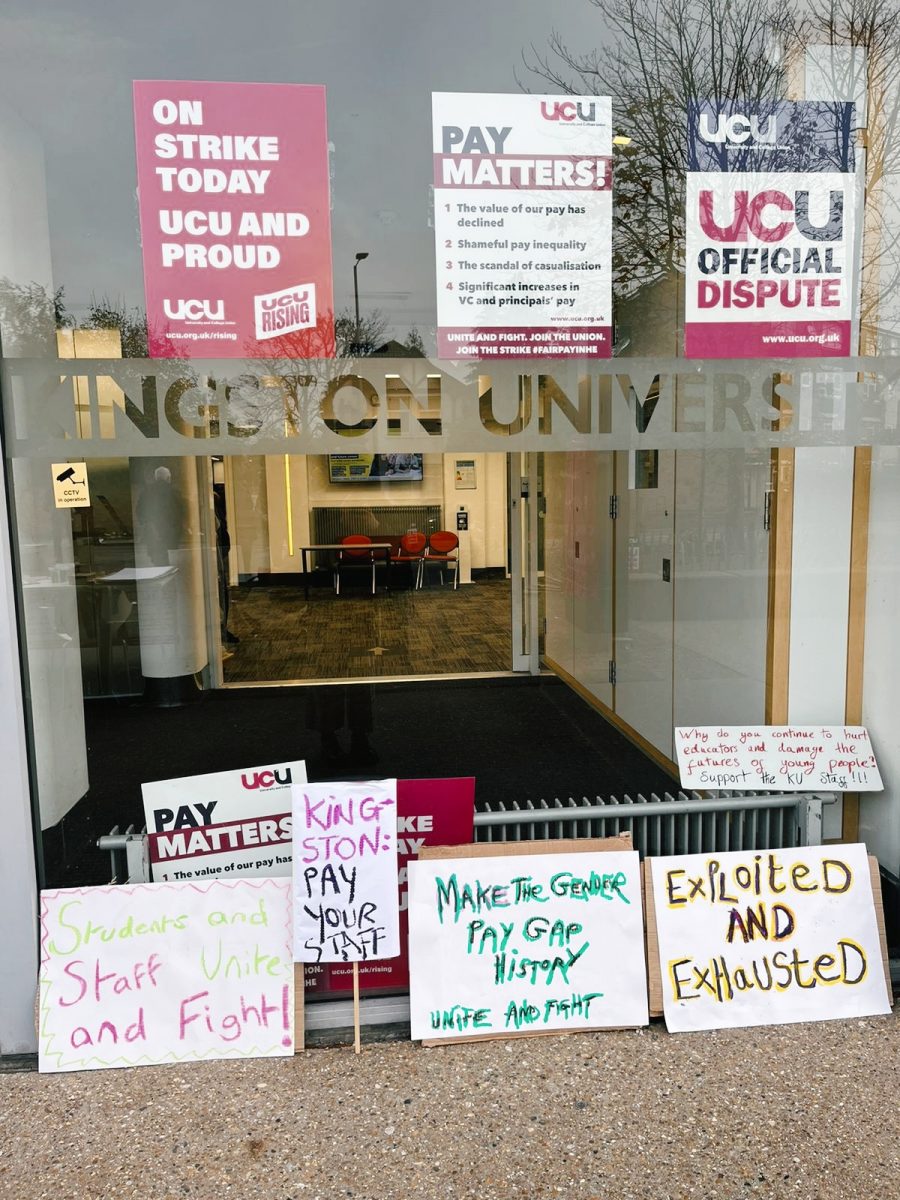 One of the strikers, Maggie Gray, was dancing in a hi-vis jacket whilst making UCU support badges.
Gray, senior lecturer in Critical and Historical Studies, said: "I feel less able to do the job than when I started. I think I was a better teacher when I started.
"I'm feeling overworked and undervalued. I feel like I can't give students the best of me because I'm knackered."
Art foundation student Eliza, 18, said she supported Kingston's staff's right to strike but was worried about the repercussions.
She said: "It's kind of scary because it feels like the whole world is going on strike…like the world is grinding to a halt.
"It's a chain reaction. When one person decides to do something drastic then it encourages other people."
UCU's strikes on November 24, 25 and 30 add to the context of the ongoing train, post office, and the recently announced nursing strikes.
Impact on Students
Tutors and lecturers on strike urged students not to cross the picket lines and warned them that their lectures may be cancelled.
UCU claim that this is the biggest strike to hit universities, impacting up to 2.5 million students.
Students gathered on the picket line, some in support of their tutors, and some just out of interest in the strike action. A few students sats down on the pavement outside and started drawing protest placards to support their teachers.
Even though design student Lola, 20, said didn't feel like she's was getting her money's worth for her university education she still supported the strikes. She said: "More students should be here at the picket line…We [students] are the biggest part of the university so if we take action, people will listen."
UCU states that if university employers do not move quickly and offer improved working conditions, then industrial action will escalate into 2023 alongside a marking and assessment boycott.