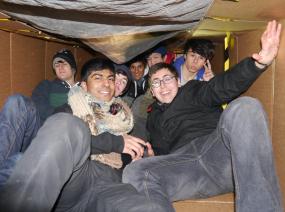 Kingston's memorial gardens were bustling with activity on Saturday night as people set up bed-boxes to raise money for homeless people.
School groups, families, couples and friends congregated in the graveyard for YMCA's fifth Sleep Easy Event, which has already raised £9,100 with an intended target of £10,000 by the end of February, when the fundraising page will shut.
A representative from YMCA, who joined the Kingston group for a night in the graveyard, said: "We had a great turnout and even though it got pretty cold during the night, I would say we got lucky with the weather this year, not having any rain.
"The money raised will go to various YMCA projects tackling homelessness and housing needs in our local community."
Alan Dean, Deputy Mayor, took a tour of the cardboard cribs and stayed to listen to the YMCA band, made up of residents and support workers at YMCA Surbiton, who performed music from their CD, which was also sold to raise money for the event.
Mr Dean said: "I'm not staying over tonight but I have spent many a sleepless night out in Kingston.
"I think this is a great event and the music was fanastic. Look, I bought a CD."
As promised the Sleep Easy couple Neil and Catherine, who were celebrating their second anniversary, were joined by family and friends who helped build an impressive communal sleeping area.
Catherine, who is now suffering Sleep Easy jetlag said: "Our shelter was the best I've built yet.
"I think the trials, errors and successes of previous years were very helpful in building a structure for six.
"Tarpaulin and duct tape is the answer, with the cardboard as a frame."
Some sleepers used tarpaulin and fairy lights to decorate the boxes, while artist Anna Boyd directed others in decorating a canvas with pens and paint which will be auctioned to help raise money.
As well as raising money, raising awareness about homelessness was an important part of the experience.
Paula Steel, who was in a group of nine from Kingston Rise, said: "I live here, I went to school here at Coombe Girls, went to uni here, but homelessness is just not talked about and it stinks."
There were 160 people taking part across Kingston and Wimbledon, a record high for Sleep Easy.
Among the school groups in Kingston was Coombe Girls, Marymount and Southborough High School.
Miss Bassnett-Barker, geography teacher at Southborough High School, which brought groups from year 10, 11 and the sixth form, said that it was important young people were aware of the issues.
To donate money to YMCA or find out more about the Sleep Easy event visit http://www.ymcalsw.org/Pages/Fundraisers/.
Image courtesy of Nicole Zandi