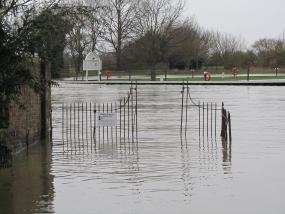 The Environment Agency issued flood warnings for Kingston last night, stating that the river is "high and rising".
The flood warning area is between Raven's Ait and Teddington Weir, including the Hogsmill River below Kingston University Knights Park Campus and Kingston Bridge.
A spokesperson for the Environment Agency said: "The River Thames at Kingston is high and rising.
"We are expecting the river to continue to rise over the next five days.
"Further property flooding is expected closest to the river."
The river was measured at 5.4 metres this morning and is the highest recorded for over three decades.
Thames at #Kingston is 5.4m high this morning. Typical range is 3.49-5.00m. http://t.co/GIHXXQ75bT

— Kingston Council (@RBKingston) February 11, 2014
The highest river level recorded at this location is 5.71 metres.
Visit the Environmental Agency website for flood warnings or call Floodline on 0845 988 1188
Image courtesy of Kingston Courier