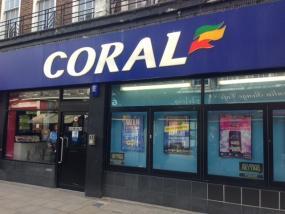 Across the country high streets are dying, and a sign of their lifeblood ebbing is an invasion of betting shops into rows of redundant retail outlets.
According to Kingston councillors, their relatively healthy town centre is also now threatened by the proliferation of the betting shops, which they have no legal powers to stop.
Currently in the same planning class as banks and building societies, there is nothing to stop the high street's slow death. Kingston Council has begun the fight, trying to wrestle back planning powers from central government, and kick start the high street back into life.
Councillor Trevor Heap, leader of the opposition for Kingston Council, is "highly displeased by the government's cavalier treatment to date".
He is adamant that the government's failure to address the situation is "incomprehensible" and accused the government of lying.
"The statement that local authorities already have sufficient powers to limit the proliferation of betting shops in our high streets and communities is a downright lie."
Only the government can stem this problem and offer a lifeline to local councils up and down the country that are being eroded by current laws. Is the request for new powers really so controversial?
"What we want to change is the uncontrolled multiplication of betting shops and turf-accountants offices, which can only be addressed by government acceding to local authorities' perfectly reasonable request for the introduction of revised [or] clarified use classifications," added Cllr Heap.
Standing in Kingston town centre, the transformation from retail hub to bookies' dream is obvious. No matter where you turn, there is one promising to transform your life with high stake odds.
For the council, the fight began last October when it voted to pressure the government into reclassifying betting shops, restricting the ability for new shops to be opened with no opposition.
Since that meeting, the debate about betting shops has gained mainstream attention, with a national campaign to control fixed odd betting, countless articles in the national press and Labour increasingly taking a different view following their disastrous Gambling Act introduced in 2005.
Still, the problem remains. In December alone, two new betting shops opened in Kingston town centre. The council needs help from central government.
MPs are at last coming round to the idea of helping, with members from all parties waking up to what is happening in their constituencies. The start of the year saw prominent politicians including Labour MP Tom Watson and Conservative MP Sir Peter Bottomley put forward a new motion to help.
It says: "The Portas Review into the future of high streets describes gaming outlets as a blight on the high street, that their proliferation is creating unsightly gambling clusters on struggling retail hotspots and that in many areas, crime and anti-social disorder has been associated with a proliferation of betting shops."
The motion goes on to say how local authorities "should be empowered to decide whether or not to give approval to existing and additional gambling venues in their community" by placing betting shops in a new planning class.
While that might be a step in the right direction, Labour have also been debating the issue in Parliament. With its MPs controlling some of the poorest constituencies following the recession, 42 out of the top 50 claiming Job Seekers' Allowance, they have seen first-hand what it can do to people's lives. The party realise that something has to change.
MP Clive Efford, who led the debate, said the House "believes that local authorities should be able to establish a separate planning class for betting shops" and the government has to "put local people before the interests of the betting shop operators and give local authorities the powers they need to respond to concerns from their local communities".
This sentiment was backed by various MPs, and while the Conservative government seemed to be against it, Labour raised numerous examples of communities being destroyed by the sheer number of betting shops.
MP Brian H. Donohoe said: "This problem is polluting our high streets. Shops are disappearing and in their place, we are getting bookmakers. This is a ridiculous situation and a decision is needed sooner rather than later."
But Labour's motion was rejected, 314 to 232. Instead, an amendment passed at 311 to 225. Even local MP for Kingston and Surbiton, Edward Davey, could not bring himself to support the motion. A case of his lackluster rebellious voting that would see him side with his party over constituents.
The amendment "considers the future of [betting shop] regulation to be unresolved", going on to state "that local authorities already have planning powers to tackle localised problems and target specific areas where the cumulative impact of betting shops or other specific types of premises might be problematic".
While it may be a perfectly reasonable request to simply reclassify betting shops, Mr Efford summed it up by challenging the government on their ability and willingness to give local authorities more power.
He said: "The Conservatives claim to be the party of localism, but they do nothing to encourage it."
Councillor Simon James, who originally raised the issue within Kingston Council, agreed, saying "that's exactly the point".
Councillor James is determined to fight on, with the view from inside the Guildhall not changing, even if the government continues to turn the other cheek over betting shops.
He said: "We remain of the view that local authorities should be able to make planning decisions on betting shops.
"The licensing regime does not give councils the ability to make the decisions that their residents want such as controlling fixed odds betting terminals."
Fighting on may prove more difficult than the council expect though, with Councillor James admitting: "The problem is, it is something the Conservatives really don't want to do."
Even so, this is a problem that has to be addressed. Kingston's high street is struggling, unable to sustain the level of betting shops in the area.
For the council, the fight must go on if it is to maintain a shopping destination which attracts thousands of people throughout the year, one which is said to have weathered the recession so well.