The illustrator of children's book The Gruffalo will host an online drawing extravaganza to raise money for charity Habitats and Heritage on December 5.
Patron of the charity Axel Scheffler will host the exclusive online family workshop organised by Habitats and Heritage which is dedicated to conserving and developing the natural and historic environment in the south and west of London.
Scheffler said: "I'm looking forward to welcoming families to this festive virtual workshop.
"It's going to be really enjoyable for everyone as we throw ourselves into the creative process and produce some wonderful illustrations."
The audience will be invited to get involved and draw their own versions of the Gruffalo, Stickman, and Snail and the Whale in the half an hour long event.
The cost of a family ticket is £10 plus a small booking fee.
Scheffler will also read some extracts from books he helped create alongside Julia Donaldson, and there will also be a Q&A opportunity.
CEO of Habitats and Heritage Colin Cooper said: "In addition to educating children about nature, these events raise important funds that continue our work."
The charity, which has been operating since 2011, states on its website that it wants to see nature "flourish".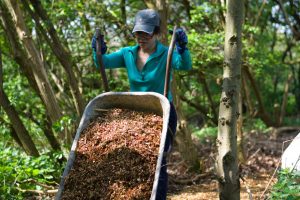 Donations and fees from events go towards preserving the environment, caring for local landscapes, and the wildlife and ecosystems found in the south and west of London.
The online event will also provide an opportunity to buy a limited edition signed Winter Deer image, illustrated by Scheffler.
Consequences of using green space
The charity has also organised a tree planting day at Morden Park for December 6.
The trees being planted were donated by the Heritage Trust Network, an organisation that supports the work of local heritage groups across the UK, to off-set the carbon from their 2019 annual conference.
Cooper encouraged people to look at things they buy or use from an environmental perspective.
He said: "We have all appreciated our parks and green spaces this year more than ever before, but this increased usage is also having consequences.
"My advice for parents is to encourage your children to get out into nature, appreciate its wonder and diversity, the delights of the seasons."
The public can support the charity by attending its events, becoming a supporter and volunteering for future conservation projects.
The supporter scheme is £10 a year.
Tickets for the online event can be bought here.