Formula One saw its worst looking accident since Ayrton Senna at Imola 1994, when Romain Grosjean crashed at the Bahrain Grand Prix on Sunday.
Grosjean was travelling at over 200kph when he clipped the Alpha Tauri of Daniil Kvyat sending him veering across the track and piercing a barrier on the exit of turn three.
His car was ripped in half by the impact and instantly set ablaze with the front half of the Frenchman's car wedged in the Armco barrier.
Unlike some of the horrific accidents the sport has seen in the past, Grosjean was able to walk away with only minor injuries- something that would not have been possible even three years ago.
How Grosjean survived was put best by Audi Formula-E driver Lucas di Grassi. "The reason Grosjean is alive is called science and hard work by a lot of engineers, doctors and the regulatory body making motorsport safer," he tweeted.
So how was Grosjean able to walk away from this accident?
The halo
The first and perhaps most important thing that saved Grosjean was the halo device above his cockpit.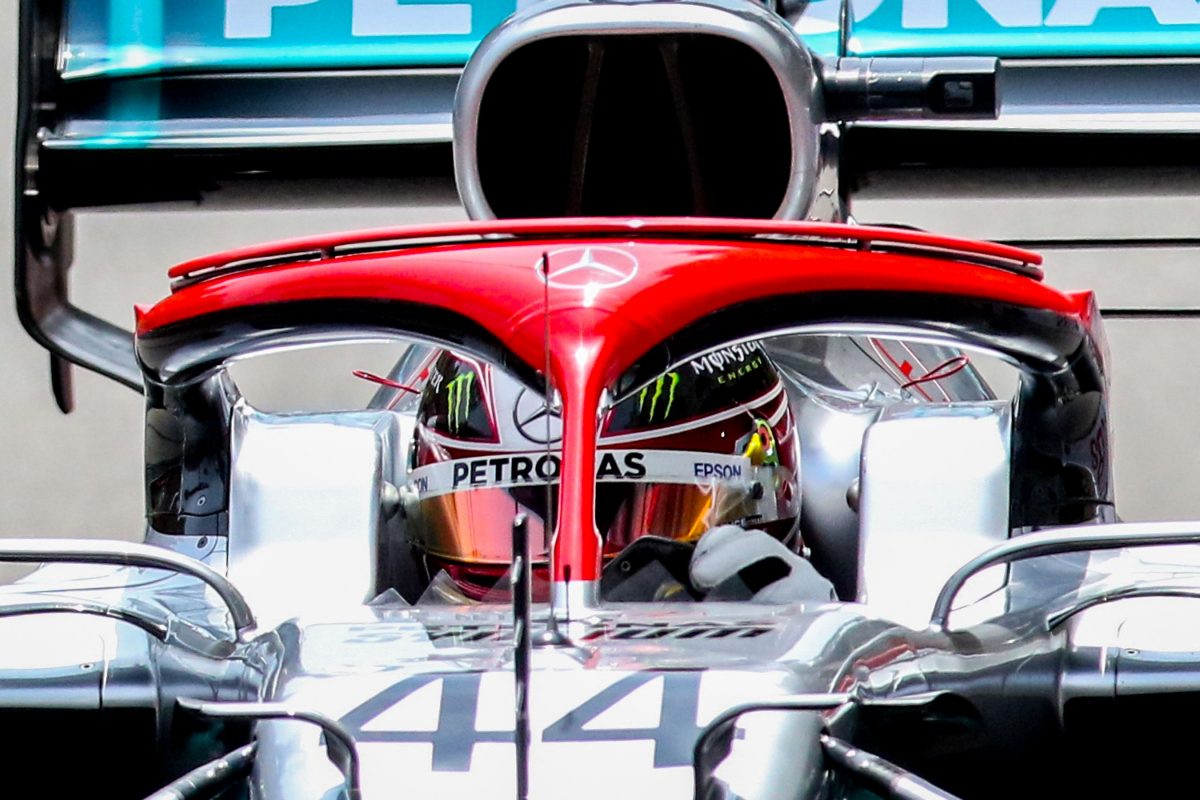 The halo was introduced in 2018 and is used in all FIA open wheel racing series including Formula 1, Formula 2, Formula 3 and Formula 4 from 2021.
It is made of titanium and weighs around nine kilograms. Designers speculate that it can hold up to 12 tonnes of mass, which is equivalent to a London bus.
As Grosjean's Haas went headfirst into the barrier, generating 53G of impact, it was the halo device that took the brunt of that.
Without the halo it almost certainly would have been Grosjean's head hitting the barrier and it is unlikely he would have survived the head trauma.
Grosjean is now the third driver in F1 who may well have been saved by the halo.
At the 2018 Belgian Grand Prix, the halo saved Charles LeClerc from being hit on the head by Fernando Alonso's front wing after his car was sent airborne.
At this year's Belgian Grand Prix, George Russell certainly avoided serious injury after a wheel was sheared off of Antonio Giovinazzi's Alfa Romeo and was sent flying towards Russell, but the wheel hit the halo rather than Russell's head.
However, the halo was not introduced without controversy. Many fans and drivers criticised its introduction saying that it was ugly or that it may obstruct drivers vision or their ability to escape a burning car.
Grosjean himself was a critic of the halo. However, he has now been converted.
"I wasn't for the halo some years ago but I think it's the greatest thing that we brought to Formula One and without it I wouldn't be able to speak to you today," Grosjean said.
Other engineering marvels
The halo is not the only piece of engineering that helped Grosjean on Sunday.
The carbon fibre monocoque surrounding the driver, often referred to as the survival cell, definitely aided Grosjean.
Pictures of the wreckage showed that the survival cell was still in one piece after the accident.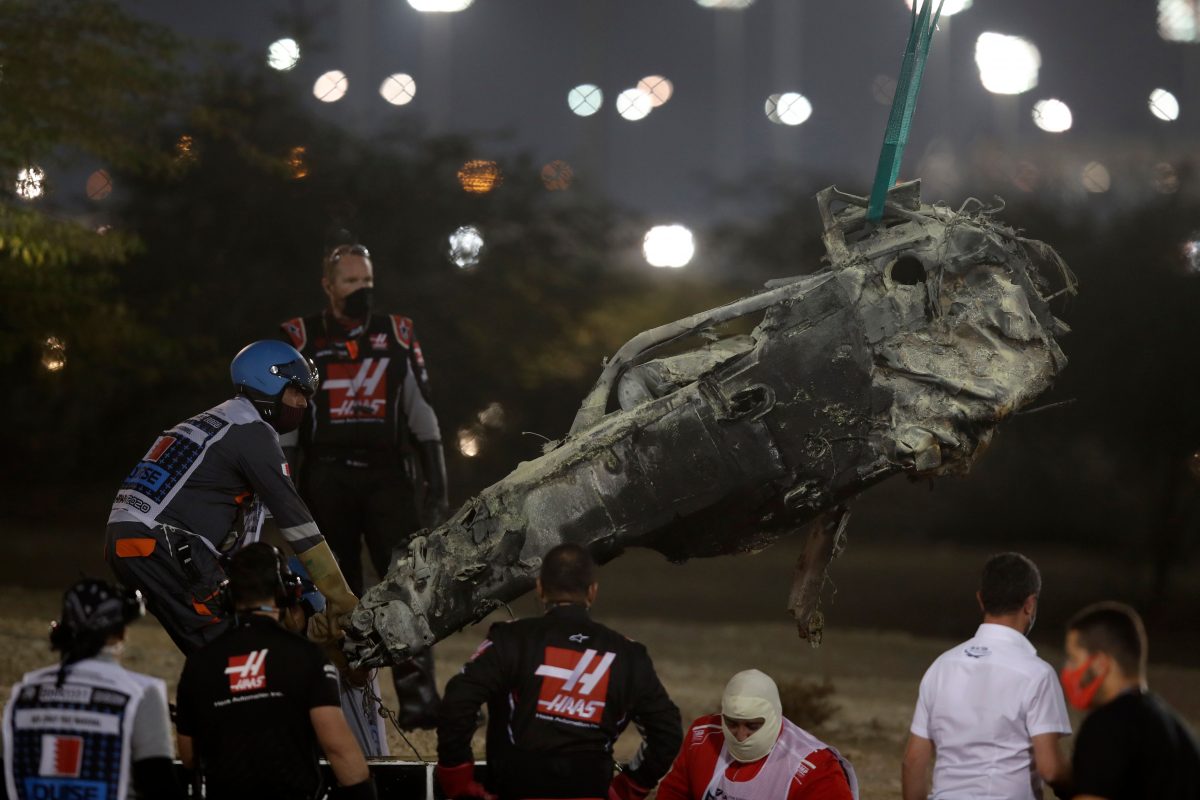 Another thing that may have helped Grosjean is the Head and Neck Support (HANS) device.
The HANS device is a carbon fibre neck brace that is attached to the helmet of the driver and is designed to take the force of any impacts.
Had Grosjean not been wearing a HANS device, he may have been knocked unconscious which, as Sky F1 commentator Martin Brundle alluded to, would have made it very difficult to extract him from the car.
"The fact that Romain was alert surely saved his life," Brundle said.
New fireproof overalls
It is not only safety developments on the cars that helped to save Grosjean on Sunday. Recent improvements to the fireproof overalls almost certainly helped.
Drivers all wear fireproof race suits, as well as fireproof gloves, boots and balaclavas. The suits are made of three layers of Nomex, a fireproof material used in firefighters' suits.
Grosjean was especially lucky as the FIA introduced new heavier overalls this year, which are fire retardant for 20 seconds.
This was vitally important as Grosjean was trapped in his burning car for 32 seconds.
His gloves were an older specification, only retardant for 10 seconds, and as a result of this, the Frenchman received second degree burns on his hands.
As well as the suits, all drivers are required to take part in pre-season tests to prove they can extract themselves from a cockpit in a certain amount of time, with the cockpit being put in different positions.
The unsung
heroes
While all the engineering undoubtedly saved Grosjean, praise must also be given to the FIA medical car drivers, Dr Ian Roberts and Alan van der Merwe, as well as trackside marshals.
The medical car lines up behind the cars on the grid at the start and follows them round on lap one, often having to stop to deal with an incident.
However, this time it was a much more serious incident than they are used to.
The two men rushed into the blaze to meet Grosjean, with Roberts helping him climb over the barrier his car was in.
"I could see Romain trying to get up. We needed some way of getting to him. We've got the marshal there with an extinguisher and the extinguisher was just enough to push the flame away as Romain got high enough to then reach over and pull himself over the barrier," Roberts said.
Van der Merwe described how they prepared for certain incidents. "We do a lot of checklists and a lot of scene prep, talking about scenarios, but this was crazy.
"Honestly, to get there and see half of the car, and the other half nowhere to be seen and a huge ball of flame, you have literally seconds, you're thinking on your feet. So preparation only gets you so far, and after that there's a lot of sort of instinctive and quick thinking," he said, speaking to Sky F1.
They were perhaps fortunate the incident happened at turn 3 rather than further round the track where it would have taken them longer to reach the Haas driver.
Overall, Grosjean is lucky to be alive. However, luck might not be the right word to describe it. Grosjean is still with us as a result of years of innovation and using horrible crashes like Niki Lauda at the Nordschleife in 1976 or Jules Bianchi at Suzuka in 2014 as learning moments, vowing to never let an incident like that happen again. So perhaps Grosjean crashed and lived to tell the tale as a result of well-engineered luck.