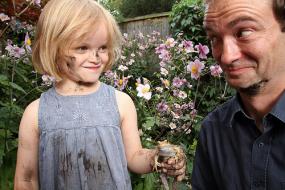 Clapham Picturehouse will be hosting a day of events to coincide with the launch of Project Wild Thing this Sunday. 
The film, which will be shown in just 45 locations around the country, follows one man's emotional journey where he seeks to reconnect children with nature.
The event will be held alongside the RSPB, who are hopeful to get children and nature back together.
Suzanne Welch, RSPB representative for The Wild Network, says: "The RSPB believes that nature should be a part of every child's life. Research has shown that there are many diverse benefits for children of contact with wildlife and outdoor experiences but the reverse is also true.
"Nature is in trouble and children's connection to nature is closely linked to this. I would urge everyone to make a little more space in their lives to engage with the natural world."
Along with a film screening, people will have the chance to put questions to director, producer and star David Bond, before a drinks reception in the evening.
David said: "Project Wild Thing isn't some misty eyed nostalgia for the past; we need to make more space for wild time in children's daily routine, freeing this generation of kids to have the sort of experiences that many of us took for granted.
"It's all about finding wildness on your doorstep and discovering the sights, sounds and smells of nature, whether in a back garden, local park or green space at the end of the road."
The event will begin at 3pm with a short introduction before the day gets underway. The film will be shown for one week only starting Friday.
Photo courtesy of Project Wild Thing