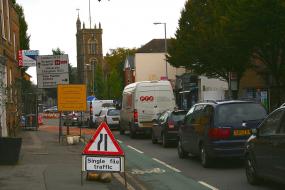 Shop owners on London Road say their businesses have suffered as repairs to the sewers damaged by the Fatberg drag on. 
The road works officially began in August when sewage workers discovered a bus-sized ball of grease that had caused serious damage to the pipes underground.
John Waldens, who owns a popular bike store right next to where the fatberg was found, said: "I have noticed a rapid decline in customers since the road works started. I think especially people who drive motorised vehicles tend to avoid this area now.
"This has been going on for so long now that I have lost track of the time. There were weeks when nothing at all was happening out there," he added.
The partial closing of the road is causing major traffic jams at all times of the day. But this is not the only problem with the road works on London Road.
A restaurant owner who didn't want to be named in connection with the Fatberg claimed he lost about 50 per cent of his customers since the road works began.
He said: "I understand that people don't want to eat next to the Fatberg. It is digusting."
Although the Fatberg has been removed, the restauranteur said customers still felt put off. "[The thought of] it is in their heads", he said.
On September 23 the shop owners in the affected area received a letter from Thames Water informing them that the repair works could take up to five more months and that the road works need to be extended to Cambridge Road.
In the meantime Kingston Council and Thames Water agreed to a new action plan to speed up the repairs and finish them before Christmas.
Some of the shop owners have asked the council to lower the business rate for them. However, so far the Council hasn't taken any action.