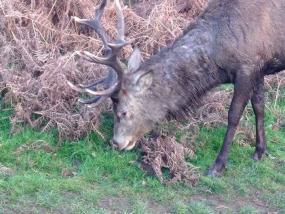 A petition to stop the deer cull with nearly 1500 signatures is to be presented to Culture Secretary Maria Miller on October 29th.
Bushy Park near Kingston is currently in the mist of its annual deer cull, which sees 2 deer shot per night throughout September & November, leading to widespread public outcry from locals.
Lead campaigner Lesley Dove from Teddington said: "It is cruel and unnecessary, causing stress and terror to the surviving animals."
The cull saw a large number of protesters descend on the park last month, with future demonstrations in the pipeline throughout November.
Bushy Park is the second largest royal park in London and has been host to deer since King Henry VIII set up a deer chase; their current population is estimated to be at just over 320.
The Royal Parks media relations officer, David Brownlie-Marshall said: "If the cull did not take place then deer would eventually suffer as a result of overcrowding and malnutrition, leading to starvation and death."
Speaking to local residents, many of them accepted the need for a cull. But most believed there to be a more humane way of controlling the deer population.
New research released this year has shown that only by killing between 50% and 60% of a deer's population can their numbers be kept under control.
Hampton Wick resident Daisy Leadbetter said: "It is a treat to have the deer here, but they do have to be controlled. It would be nice to have a more noticeable presence from the gamekeepers, especially when the deer are rutting."
The Royal Parks policy on managing deer has been agreed with the British Deer Society and follows industry practice.
You can find out more about the petition at https://www.facebook.com/events/229889680497531/