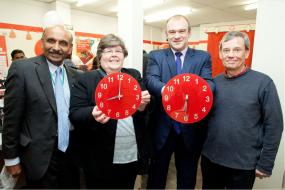 Ed Davey has welcomed plans for a further £640m to modernise and protect Post Office branches.
Announced by Post Office Minister Jo Swinson, the funding will speed up and complete the modernisation of the Post Office Network nationally but local residents in Surbiton and Kingston will also experience the benefits.
Ed Davey, who was the Post Office Minister between 2010 and 2011, and now the Energy Secretary, said local residents will appreciate the extra funding.
He said: "The £640m in additional funding on top of the £1.34bn already pledged ensures the Post Office network will maintain its 11,500 branches while bringing huge benefits to customers.
"In our local area residents have appreciated longer opening hours and a more attractive layout thanks to the modernisation of the Surbiton High Street and Kingston branches. Residents of New Malden will soon be able to experience these benefits as well.
"Under Labour we saw over 7,000 Post Offices close, including 9 in Kingston Borough."
Earlier this month, Mr Davey, Councillors Yogan Yoganathan and Malcolm Self opened the newly refurbished Surbiton Post Office.
However, the investment comes just a month after the government sold off the Royal Mail at 330p a share, seeing the resell price shoot up.
Jo Swinson, the current Post Office Minister, said: "The Post Office is a vital part of our social fabric at the heart of our communities. Its network has unparalleled reach up and down the country.
"The Coalition Government is keen to maintain the key role that post offices play. Today's investment will continue to build on the success of the Post Office modernisation programme which is already well underway.
"We recognise the important service that post offices provide to small and often remote communities, sometimes even as the only shop in the area. This is why we are dedicating specific funding to support modernisation and strengthen the existence of these branches."