Government data released this week revealed that Kingston has one of the highest rates of Covid-19 in the UK, with 1780 people testing positive between March 16 and 22, showing an increase of 15.8 per cent compared to the previous seven days.
The UK went into the first lockdown on March 23 2020. Prime Minister Boris Johnson had imposed strict measures on the country's population following fears of a deadly virus that was expected to sweep across the nation.
Millions of Britons endured several more lockdowns and strict rules, but two years on Covid-19 is still prevalent.
Some Kingston residents are concerned for vulnerable groups as case levels are rising again, following the government's removal of all restrictions and free lateral flow testing.
Surbiton resident Sebastian Monblat, 24, said: "It is worrying. People should wear masks on buses, trains, taxis, and in shops, supermarkets, and shopping centres. We should test regularly too."
Estate agent Magdalena Bak, 28, said: "Before Covid this time of the year was always the season for flu. The weather is very deceiving. The sun is shining, but evenings are very cold. It is natural for cases to rise."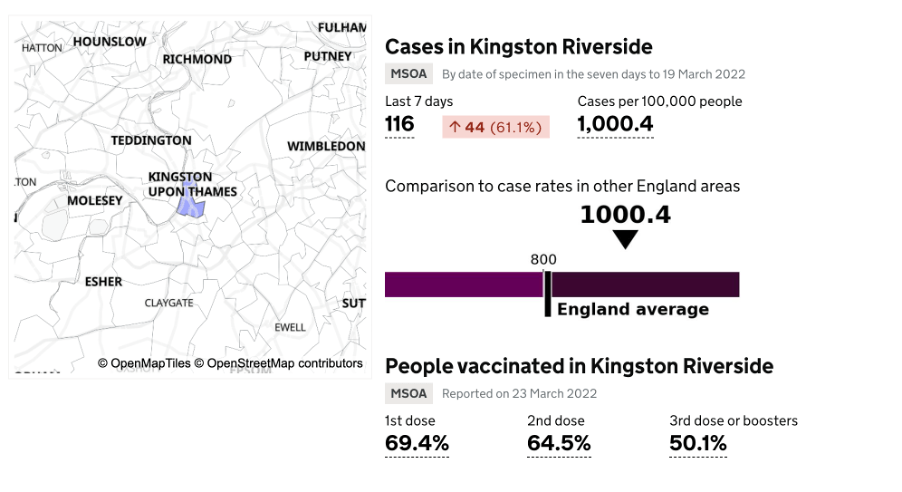 Some residents said they were not concerned about the increase and would prefer to continue life without restrictions.
Flight attendant Lauren Fonesca, 39, said: "I am not in the slightest bit worried. Two years on, we can make our own risk assessments. The majority of people are triple jabbed, if that was the choice they made, so they should trust the vaccinations."
She said that she was putting her young children's lives first. "My youngest is three today. She turned one on 'lockdown day'. I am not letting their lives be interrupted anymore than they have done. They have missed out on too much already," she said.
Hospitals in England have seen an increase in admissions which are now back to a level last seen in January 2022, when the country had stricter measures such as face mask wearing and compulsory testing if one has symptoms.
Yet due to the mass vaccine rollout, death rates are significantly lower compared to the total of 1,463 deaths on the "deadliest day" (January 29, 2021). As of March 24, 2022, over seven days there were 877 deaths within 28 days of a positive test.
This week health secretary Sajid Javid spoke about the rise in Covid-19 levels. He said: "At the moment, in English hospitals we have around 11,500 people that are Covid-positive, but of those people the NHS estimates almost 60 per cent are not there because of Covid – they are there for something else. That might be a hip operation or something, but they happen to be Covid-positive."
This comes after this week he extended the offer of a fourth vaccine dose to over 75-year-olds, care home residents and those with weakened immune systems.
He said: "It's right that we keep vaccination under review and so I have accepted the latest advice of the JCVI – that's our expert group of independent advisors – to offer this spring booster jab.
"It will top up their protection against this virus and allow them to go about their daily lives with more confidence."