Kingston residents have been contacted by fraudsters impersonating the NHS, asking people to provide bank details and pay for their coronavirus vaccinations.
"We are aware of a sophisticated scam, posing as the NHS and asking for money to book a vaccine appointment," Kingston Council tweeted earlier this month.
"The vaccine is available for free on the NHS. The NHS will NEVER ask you for money or your bank details when booking a #coronavirus vaccine appointment."
HealthWatch Kingston acknowledged the issue in mid-January and published a what you need to know on their website in response.
"We are aware that some people are receiving suspicious calls and text messages offering the Covid-19 vaccination," the Healthwatch guide read.
Now in mid-February, the scams continue to pose an issue.
Action Fraud UK is tackling the problem on a national scale.
Action Fraud released examples of what the scams might look like: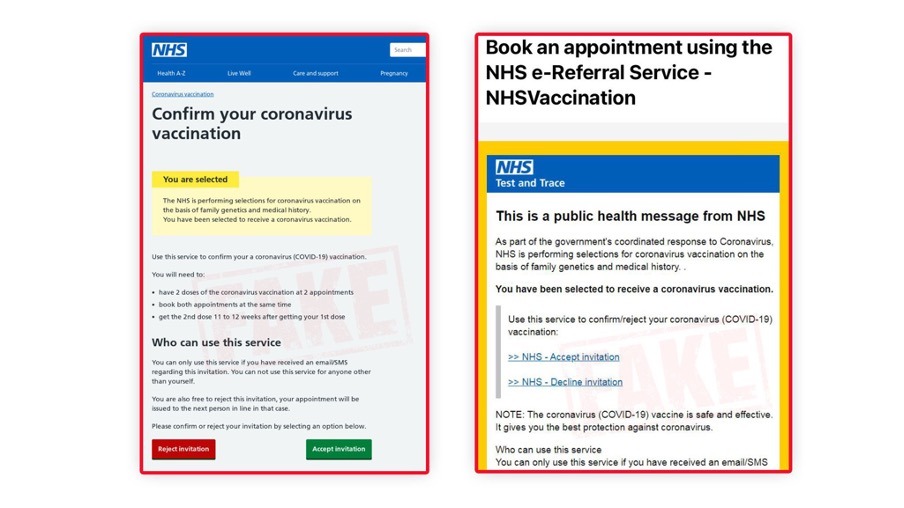 Kingston Council has asked residents to contact Action Fraud on 0300 123 2040 if they encounter anything like the images above, are suspicious of any text messages or phone calls they receive, or believe they have been a victim of a vaccination scam.
HealthWatch Kingston added in its guide: "If you receive a call you believe to be fraudulent, hang up. Where the victim is vulnerable, and particularly if you are worried that someone has or might come to your house, report it to the Police online or by calling 101."
The Government, in a leaflet on how to be alert to vaccine fraud, also advised that anyone concerned about a text message should forward it to 7726.
Surrey County Council issued similar warnings this month and uploaded a video featuring advice on what to expect from a genuine vaccine invitation from Dr Sally Johnson, head of local coronavirus vaccinations.
Her main points were:
There are three ways the NHS will extend an invitation for a vaccination appointment: by letter, by text, or via a phone call.
The NHS does not use automated phone call systems so if such a system is encountered, hang up.
The NHS will never ask for financial details in relation to the coronavirus vaccine.